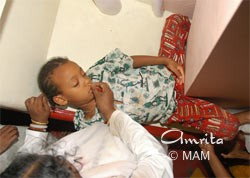 6 August 2006 — Amritapuri
It was way past little Dev's bedtime… but darshan was far from over. Wanting to see Amma one last time before he went to bed, the little Swiss-German boy decided he would wait by the stairs to Amma's room. She had to come there eventually. But after some time, he just became too sleepy, so he laid down on the side of Amma's staircase and fell asleep…
By the time Amma finished, it was past 11 p.m. She had been giving darshan continuously for the last 13 hours. But the smile was still on Amma's face as she slowly made her through the crowd of devotees from the darshan hall to her room. Taking a few steps up the stairs, what did Amma see? Little Dev, of course, fast asleep.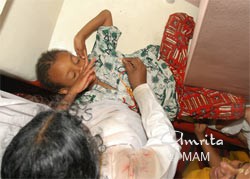 With a loving and mischievous smile on her face, Amma took the string from a rakhi bracelet a devotee had recently tied around her wrist and gently began to insert it into Dev's nostril. From the depth of his slumber, he stirred and tried to brush away whatever it was that was disturbing him. Amma repeated her play, and again the boy brushed the string away with his hand. The next time, he opened his eyes a little, and then went back to sleep.
The devotees watching from the foot of the stairs could not suppress their laughter.
Amma tried one more time, poking the rakhi into Dev's nose. This time, it worked. He opened one eye and then slowly pulled himself up into a sitting position. It was only then that he looked over and saw Amma gazing at him. Watching his face, one could sense him slowly remembering where and how he had fallen asleep.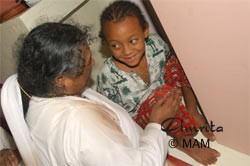 The cute smile that crept across Dev's face was instantly reflected in the faces of the hundreds of devotees and ashramites who had been watching the leela for the past ten minutes.
Amma looked deeply into the boy's eyes, rubbed his chest and planted a quick kiss on his cheek. She then walked to her room.
Waiting for Amma is never a waste. Sleeping for Amma can be a boon.
—Sakshi