9 January 2007 – Amritapuri
On August 18, 2007, a group of children from a remote tribal village near Janakpuri in Chattisgarh went to graze the village goats in a field in the forest. It was there that three bears-a mother and two cubs-came upon them. All the children ran, but one 12-year-old girl named Kusumavati did not get away. The mother bear sunk its teeth into the girls arm, and one of the cubs went for her face.
The rest of the children ran back to the village and told Kusumavati's father, Ghendilal Singh, 35, what had happened. He ran to the field, where he found his daughter unconscious but alive. The bears apparently had lost interest once she fell unconsciousness. Kusumavati's arm was broken, and half of her face had been destroyed.
Ghendilal took his daughter to a local tribal hospital, but the doctors there were unable to do anything. For 13 days she simply laid there on a mat. Eventually some Forestry Department officials discovered the girl and took her to a more advanced facility. However, the doctors there were also unable to do anything. During the next two months, Kusumavati was transferred to between a total of four hospitals-all to no avail. Unable to face what had happened to her daughter, Kusumavati's mother entered a state of shock and depression. Finally, Kusumavati was taken to a medical college in Raipur, where doctors referred the case to Amrita Hospital in Cochin.
During the past two months, reconstructive surgeons at Amrita Hospital performed a total of five surgeries on Kusumavati, including micro-surgery on nerves and blood vessels. In this way, her eye socket and lid were repaired, enabling her even to blink again. Kusumavati was fitted with an eye replacement and her nose was totally reconstructed. All of her teeth were replaced and an artificial pallet was formed.
The doctors say that since the completion of the final surgery, Kusumavati has started to come out of her shock and has begun playing with other children.
Today, Kusumavati and Ghendilal came to Amritapuri for Amma's darshan. The swelling has yet to completely subside and the girl still has scars. But they will fade with time.
The entire time the story was relayed to Amma, Amma did not let go of Kusumavati, holding her tightly against her chest in a protective embrace.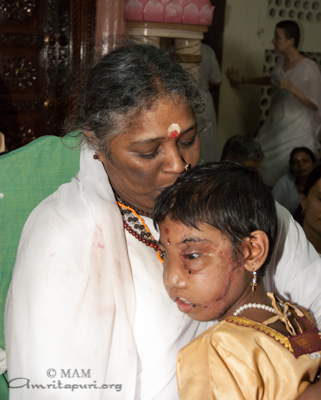 Amma arranged to have some money given to the father so as to help him recoup the wages he has lost during the past two months. She also made sure that the Ashram had a way of getting in touch with Ghendilal, as his village is so remote it doesn't even have a postal code.
After darshan, Ghendilal said that he couldn't express in words how grateful he is to Amma and the doctors at Amrita Hospital. If it wasn't for Amma and the medical care provided at Amrita Hospital, the girl simply would have perished.
Tomorrow Ghendilal and Kusumavati will take the train back to Chattisgarh, where Kusumavati's mother and the rest of the village are waiting anxiously for their return.
Most likely Kusumavati will be brought back to Amrita Hospital for follow-up surgeries during the next two years.