5 December 2007 — London, England
Amma was welcomed to London by Sri. Sanjay Shrinet, the first secretary (trade) of the Indian High Commission, as well as Civic Ambassador of the London Borough of Newham, Smt. Omana Gangadharan.
"It is a privilege and heavenly happiness to be blessed by Amma, to be in the company of Amma," Shrinet said during Amma's first evening program at Alexandra Palace in London. "From childhood, we keep on hearing a mythological story of one Indian mythological character, Bhagirath, who did penance, austerity, to bring Ganga to the earth to wash our sins. But it is a mythological story. We are fortunate that Amma is eternal truth—a reality. By her compassion and love, she is not only washing our sins but providing us transcendental happiness—eternal happiness. In one word if you are to describe Amma, she is 'a divine bliss.'"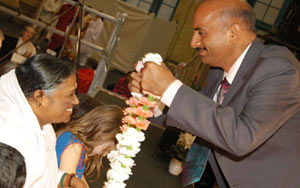 Shrinet then narrated a story about how God dwells in the hearts of all humankind and thus should be worshipped through serving one's fellow man. "This is the essence of Amma's teachings," he said. "[Through this story], one can easily understand the relevance and efficacy of Amma's love and compassion. … Amma, the eternal divinity, is following this principle.
Shrinet concluded by quoting a verse by Gujarati poet Narsi Mehta:
vaishnav jan to tene kahiye jay peerh paraaye janneyray
par duhkhey upkar karey teeyey, man abhiman na anney ray
[The real servant of God is one who understands the suffering of others and is willing to help others, with no arrogance in this selfless service.]
"This is the message we can pledge together," he said. "And may Amma bless us with her eternal love and compassion."
Councillor Gangadharan drew a thundering round of applause from the London devotees when she suggested that Amma be given a Noble Peace Prize, adding that even if Amma would not accept such a prize that the people of the world have already accepted it on her behalf as Amma is "the mother of the world."
Praising Amma's humanitarian projects at great length, Gangadharan said that Amma's social welfare and justice work have achieved "an ISO [International Standards Organization] standard."
---
---