9 Sep 2023, Ramnathapuram, Tamil Nadu
In a collaborative endeavor with the Indian Navy and the Ramanathapuram Forest Department, MAM kicked off the aerial seed ball dispersal event at INS Parundu, Ramanathapuram District, Tamil Nadu.
Swami Ramakrishnananda Puri presented the seed balls to Rear Admiral Ravi Kumar Dhingra, Flag Officer Commanding of Tamil Nadu & Puducherry Naval Area, who inaugurated the event.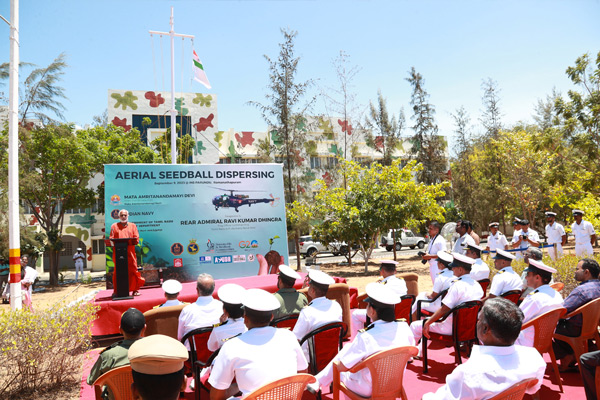 Initiating the Seed Ball campaign Amma said: "Alignment with nature is the lasting and closest bond for the human body and life. Without the elemental forces of earth, fire, water, air and space, humankind and other creatures will cease to exist. Our essential consciousness is the totality of all these forces. As long as we do not acknowledge this eternal unity between humankind and these natural forces, peace, happiness, and harmony will remain just a dream."
She also explained how simple it is for any one of us to take up this practice: "Gather at least 100 seeds. Take a bit of soil, cow dung, or compost in a paper to insert the seeds into it and tie it up. This, when thrown into the forests, will start to germinate and grow. Trees in the forest do not usually need any water or fertilizers, their own fallen leaves become fertilizers to such trees."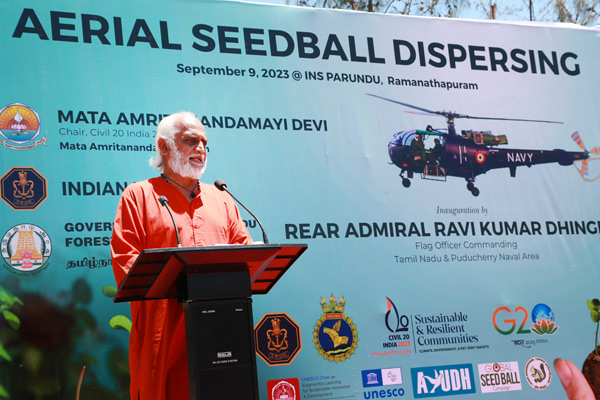 Speaking on the occasion, Swami Ramakrishnananda said: "In this world where approximately 10 million hectares of forests are lost each year, endangering the delicate balance of our ecosystems and the stability of our climate, urgent action is non-negotiable. Deforestation poses a grave threat to the rich tapestry of life on Earth. The Seed Ball Campaign offers a simple yet powerful path forward. It's a catalyst for behavioural change that transcends age and background, uniting us in the mission to preserve our environment.
This campaign isn't just about saving biodiversity; it's about safeguarding our future. Over time, it will reduce the degradation of biodiversity, fortify communities against climate change, and nurture a healthier planet for all. With a current presence across five continents and 12 Indian states, stakeholders are taking an active part in C20's Global Seed ball Campaign."
A total of five lakh seed balls will be scattered across a vast expanse totaling 3715.765 hectares within the district during the monsoon period.