12-21 July 2019, M.A. Center Germany
300 young people from all over Europe participated in the 15th annual European Youth Summit Celebrating Diversity. An inspiring, fun and wisdom filled program included talks from guest speakers, educational workshops, youth-led skill labs, sharing groups, sports events and a Human Library. Several subthemes were explored throughout the week including Diversity Within Ourselves, Diversity in Cultures, Diversity in Communities and People, Biodiversity, and Diversity in Emotions.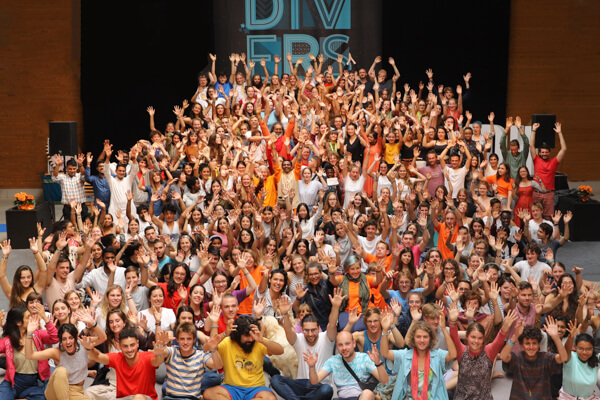 Swami Amritaswarupananda, delivered the keynote address at the summit. With a focus on spirituality, Swamji spoke about Emotional Diversity and a lively Q&A session with participants. "All emotions, good and bad, are tools or skills that can be used to elevate ourselves. They are like rungs of a ladder. Use them intelligently and step-by-step you can increase your level of happiness."
Swamiji handed over the AYUDH Award of the Year, to the Italian AYUDH group, which had the biggest increase of activities comparing to the previous year. Their activities included a social outreach programme to the homeless, environmental activities and advocating for human rights.
Br. Shubamrita Chaitanya received a standing ovation for his inspiring talk and Q&A session on Diversity in Cultures, where he spoke at length on the role of spirituality in bringing cultures together. "Differences by themselves don't divide us. It is the inability to understand, accept and celebrate those differences that cause divisions."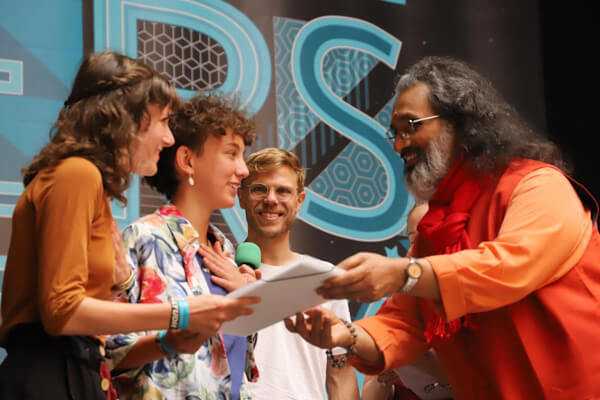 Br. Shubamrita Chaitanya and Bri. Dipamrita Chaitanya together led a beautiful peace prayer and meditation by the lake after sunset in one evening. Surrounded by glowing lamps participants had created, everyone chanted Lokah samastah sukhino bhavantu. After some time silence took hold, and everyone slipped peacefully into meditation for half an hour, serenaded only by the sound of gently flowing water.
An interactive diversity and inclusion training session was led by expert in the field, Jana Tikalová (Czech Republic). Later AYUDH Europe Director Andreas Hirsch, and Project Director Dhanya Daalmans, led the 300 youth in a "Steps of Diversity" exercise, where participants had to imagine themselves living the life of another.
While exploring the theme of Diversity Within Ourselves, former World Champion in kickboxing and boxing, Lucia Rijker spoke openly about her life experiences, and encouraged everyone to focus on challenging our own perceptions of ourselves. "If you look through the frame of comparison it's quite scary. Instead of comparing yourself to someone, aspire towards a quality in them that you admire. This can encourage us to grow, but we can never be them or know them fully. So, we should never be envious and want to be them."
French space scientist Mathieu Labonne spoke about climate change and biodiversity. He facilitated an interactive "fishbowl" debate with participants. In this kind of debate, speakers are seated in a circle, with one chair left empty at all times. If somebody from the audience wants to join the discussion they may occupy the empty chair, but one of those already seated must vacate their position so that there always remains an empty chair for someone new to join the conversation.
Diversity in Communities and People was explored as a theme by Meg Jones, who has worked for over 12 years with the United Nations in the areas of human rights, trade, economic empowerment, and the Sustainable Development Goals. She spoke about how the individual can make a difference on a global scale through advocacy on a local and national level, and how we can use United Nations Treaties to affect legislators and access available resources. She also offered practical advice on how AYUDH Europe can influence policy making.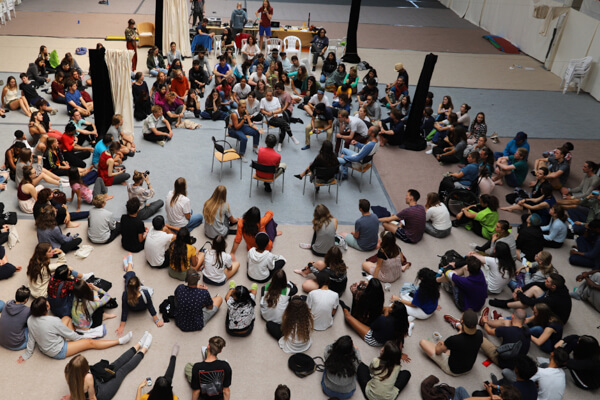 The culmination of a month long collaboration between AYUDH Europe and UNESCO MGIEP took place on July 19th in the form of an official iTAGe (talking across generations on education) event, where the role of education in diversity and inclusion was discussed.
Throughout the week participants had the opportunity to participate in two skill labs, some of which were youth-led. Among the broad range of options available were CV Writing, Sustainable Fashion, The Art of Tidying Up, Peaceful Communication, IAM 20 meditation, and Fundraising. There were some new options including Love in the Kitchen, Ultimate Frisbee, Youth Leadership, Environmental Living and Graphic Design. Some of the most popular workshops were back due to popular demand, including Acroyoga, Art, Dance As You Are, Tai Chi, and The Healing Power of the Voice.
A real highlight of the week came in the form of The Human Library. Here participants were challenged to 'unjudge' someone by helping them to understand and interact with 'human books' telling their own personal stories in a safe space. Our 20 human books were sourced voluntarily from our participants themselves, with each book sharing a vulnerable part of themselves with small groups of participants, challenging preconceptions and prejudices of the 'readers'.
On the final night of the summit, many participants performed for the AYUDH Talent Show. The varied acts included rap, cultural Italian dancing, salsa dancing, acrobatics, acroyoga, kirtan singing, German folk music, and plenty of singing. As is tradition, the final night of the summit came to a close with an energetic and rousing bhajan session.

The 15th annual European Youth Summit was an action-packed week of learning, self-reflection, non-formal learning, and fun. Inspiring talks and workshops allow participants to develop their talents and capacities in order to encourage and foster contribution to society and environmental protection. As the youth left the peaceful Germany countryside to head back home to our fast-paced lives, they held tightly to the understanding that only through embracing our differences can we create the world we want to live in. They went back with the conviction – "Together we are strong, together we are one, together we are AYUDH".
– Fiona O'Donovan