12-13 April, Trissur, Kerala – Bharata Yatra 2019
Amma held two days Brahmastanam Temple Festival in Trissur. Amongst the distinguished guests of the programme were Suresh Gopi, MP of Rajya sabha and Mar Aprem, Metrapolita of Kaldaya Suriyani Sabha. Addressing the gathering, Mar Aprem said: "Amma, who is praying for the whole world, is the pride of Kerala, the pride of India. She should be given the Nobel Peace Prize."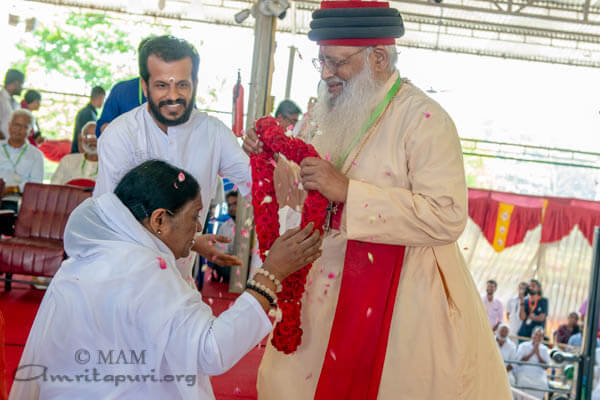 During the public function, Amma gave away saplings to AYUDH members members, promoting the 'Nalpamaram Natinnu Nalvaram' നാല്പാമരം നാടിന്നു നൽവരം project to plant medicinal trees in temples and 'Kavu' (sacred groves).
The children of Amrita vidyalayam presented a variety of cultural programs during Amma's darshan time.
Despite the scorching heat, people were waiting pateintely to see Amma, listen to her and participate in the guided mediatation. They kept aside everything to spend time with Amma and did not mind the sweat and dust in order to be in the blessed presence of a Mahatma.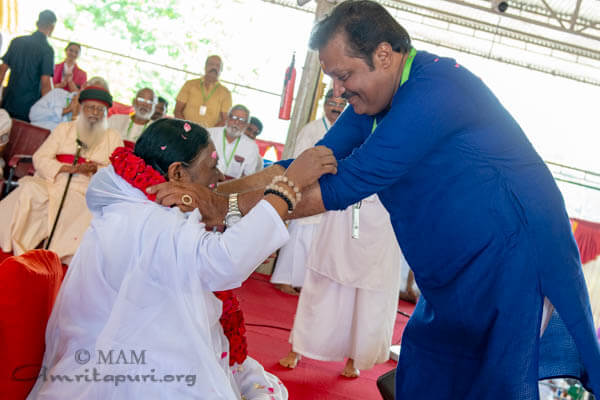 Speaking on the occasion, Amma said: "Just as our body needs good, nutritious food every day, our mind also needs the nutrition of good thoughts every day. If we eat nothing but junk food, our body will become unhealthy and sick. Similarly, bad thoughts will make our mind sick and weak. Instead, we must uplift the mind by feeding it pure thoughts. Only then will we obtain peace in life.
In the span of this brief human life, the amount we can learn about the external world will always be extremely limited. We cannot call this information true knowledge. Only through meditation can we grasp the depth, pervasiveness and fullness of life. We would never allow strangers to park their vehicles in our driveway. But do we exercise this same vigilance when it comes to the thoughts that park themselves in our mind? Using our discernment, we should be able to identify the thoughts worthy of a place in our mind, and discard the unworthy ones. The goal of meditation is to make the agitated mind peaceful and still. When thoughts cease through meditation, the mind becomes more pure and subtle. The mind becomes more tuned to the rhythm of the universe. In that stillness, the unknowable knowledge becomes knowable."
After this last program of Bharata Yatra 2019, Amma left for Australia, where she will hold programmes in four cities on the east coast of the country.
-Kannadi