9-10 April, Kozhikode, Kerala – Bharata Yatra 2019
Amma visited Kozhikode two days for the annual Brahmastanam Festival.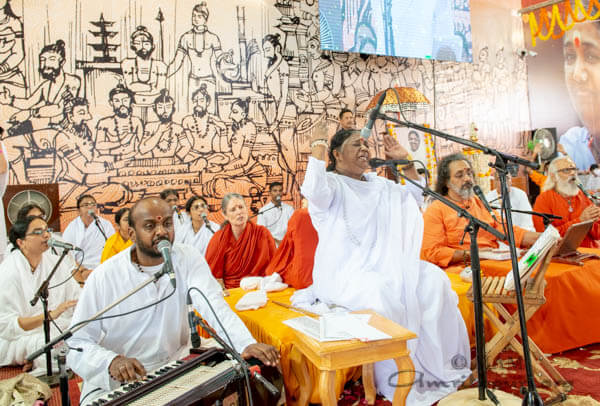 Like at every visit, Amma was welcomed by a sea of devotees, waiting to catch a glimpse of their beloved Amma as she arrived. Accompanied by traditional drumming, Amma stood gazing down at her children from the ashrams inner courtyard balcony for some time.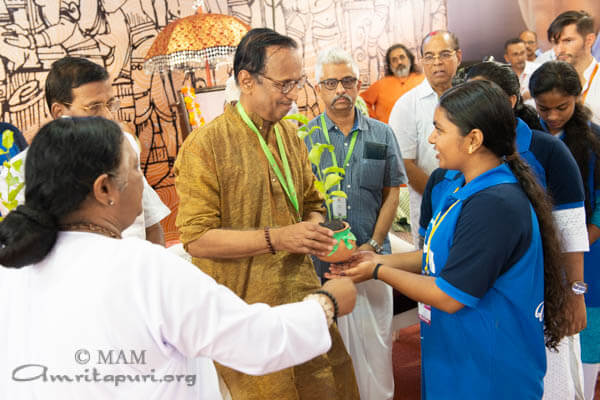 On the first programme day, Amma handed out samplings to AYUDH members in continuation of the Vishuthaineettam project. This was followed by Satsang, Bhajans and Mansa Puja. In her talk, Amma said: "This is the age of the computer and the Internet. Man's excessive fascination for technology and the many illusions he builds around it, is giving him a false sense of security. Recent natural disasters have taught us that however important science and technology may be, they will never be able to replace our basic humanity. Many people had houses equipped with all modern facilities, but could not stay in them. Many had cars, but could not drive them to safety. Many had ATM cards, but could not withdraw money. Many had mobile phones but did not have the electricity to charge them. Man will never be able to achieve complete security by relying on machines. We have to find the real security within ourselves."
Students of Amrita Vidyalayam displayed an array of stunning dances and heart stirring bhajans. Two of the school teachers also gave a special performance of the traditional Kerala Dance form Katakali, depicting the story of Krishna, who went to the house of Radha, but found the door locked. Only when Radha heard her beloved Krishna say: 'I am your Prana, there is no difference between the two of us' Radha opened the door and the devotee and the Lord met in divine reunion. The story was based on a poem written by Ottoor, the renowned Kerala poet who also composed Amma's 108 names.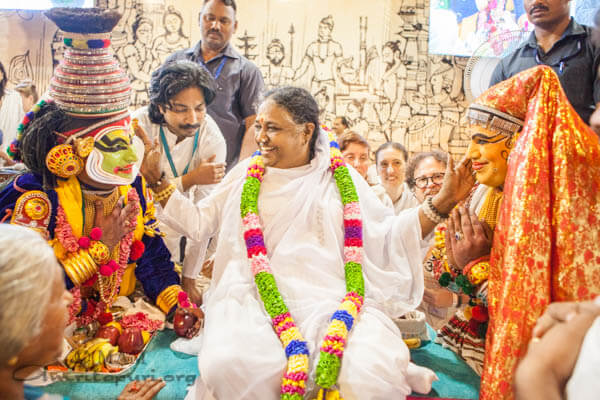 As always in Kozhikode, the crowds coming to receive Amma's blessings were huge, even despite the scorching heat. On the second programme day Amma went on to give Darshan for more than twelve hours, followed by baby feeding (annaprasham) and baby writing (vidyarambham) ceremonies with over 50 children. As Amma was giving the first feeding in the form of payasam to those kids, many in the audience were reminded of the sweetness of the motherly love that only Amma can shower on one and all – without end.
-Kannadi