Jan 27 – Tiruppur, Tamil Nadu – Bharata Yatra 2019
On the way to Tiruppur from Chennai, Amma stopped at a field just past the town of Ulundurpet. Amma led everyone in bhajans and meditation, gave satsang, and passed out prasad.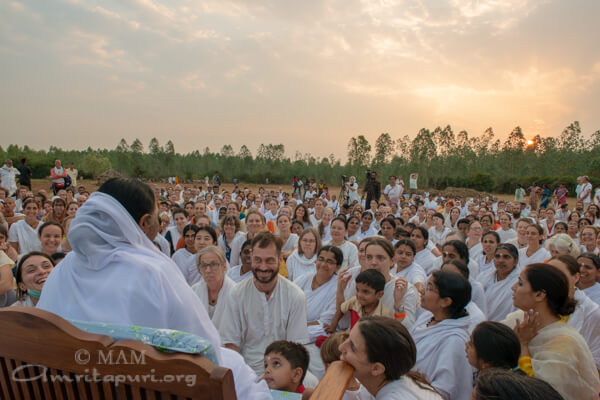 Amma talked about the need to have a childlike attitude along with an attitude of a student towards the master. "You must open your heart and unburden all your worries, or they will start eating you up from within like termites and cheap wood. You have not become like teak or mahagani – which are both strong woods."
Amma's program was held on the grounds of the Vivekanda Higher Secondary School in Tiruppur.
This was Amma's second visit to the city – the first was in 1997. At that time, even though it rained during the program, crowds of people had waited for their turn for darshan. This year, it drizzled only during bhajans and the school grounds were overflowing with people.
At the beginning of the program, Amma gave away saris to AmritaSREE Self-Help group members from the region.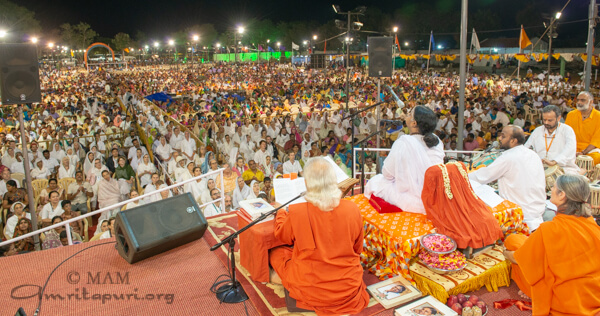 During Satsang, Amma said that human beings possessed infinite power and they could overcome any obstacle in life. She urged everyone to spread happiness throughout the world. Citing the examples of a rainbow, flowers, the full moon, and a butterfly, Amma said that although their life span was short lived, they still spread happiness around.
After bhajans, Amma led everyone in manasa puja.
During darshan, Amrita Vidyalayam children of Tiruppur and Ettimadai presented a variety of cultural programs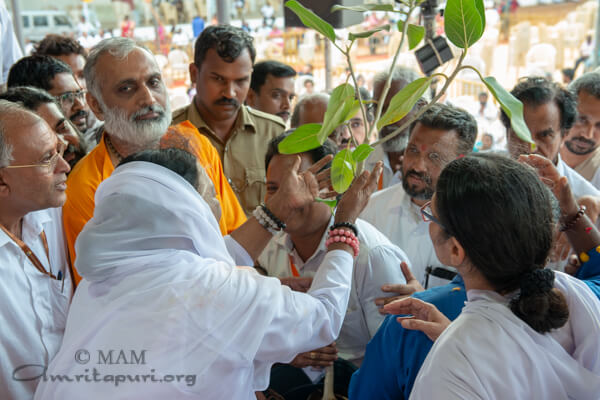 At the end of darshan, the school authorities brought a banyan tree sapling to be blessed by Amma which will be planted in memory of her visit.
Darshan continued till 8.20 am the next day morning.
-Kannadi