Jan 24 – 25 – Brahmasthanam Festival, Chennai, Tamil Nadu – Bharata Yatra 2019
On the way to Chennai, Amma and the tour group stopped at the Varavandi Railway Station area. Amma led everyone in meditation, followed by satsang, bhajans and prasad distribution. Interacting with the tour group, Amma explained the situation surrounding Her recent visit to inaugurate the Sabarimala Bhakta Sangam. Amma talked about the importance and need to protect Temples and their traditions. She also suggested that everyone should read her full speech. {Sabarimala speech}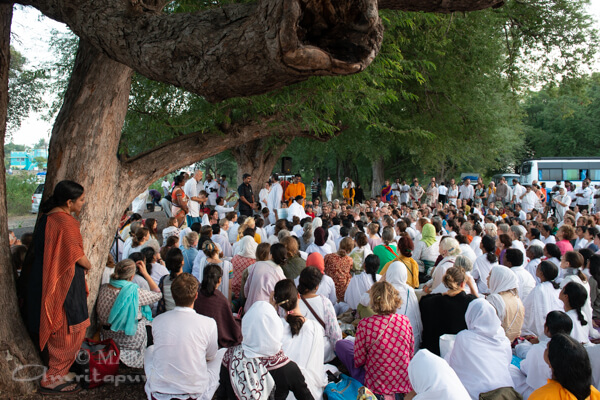 Amma reached Chennai at 11.37 pm. Devotees had been waiting for Amma's arrival with their mantra on their lips and with love in their hearts. Dr V Maitreyan, MP; Tarun Kumar, Regional Office, CBSE Bangalore; KC Karupannan, Minister for Environment; Sevvoor S Ramachandran, Hindu Religious & Charitable Endowment Minister; were among the prominent people who garlanded Amma upon her arrival on the stage.
As part of the opening ceremonies, Amma gave saris to AmritaSREE self-help group members and also gave special prizes to Matruvani campaigners.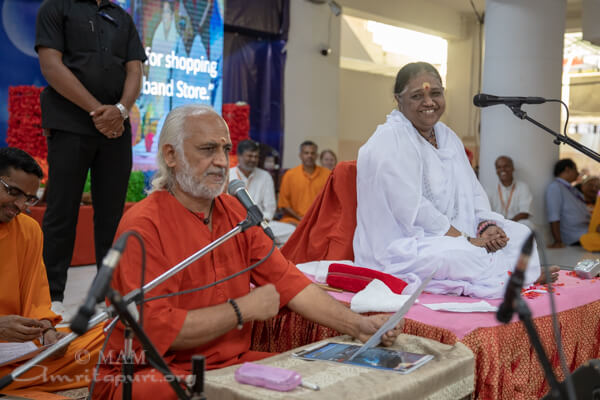 During Her satsang, Amma said that we should not think that we are useless: "Though human life is a gift, a majority of people across the world experience more sorrow than happiness. God has created each and every living being with exact measurements and requirements. Thinking, 'I am useless', is equal to questioning God's omniscience. There is nothing in this universe which can be termed 'useless'. We should not allow such thoughts to take root in our mind."
While Amma was giving darshan, many prominent musicians played for Amma, including Kumari Kanyakumari on violin and AS Ram on Keytar. Cultural programs by the students of Amrita Vidyalayam and Amrita Balakendra members also entertained Amma and the gathered crowd.
Devotees continued to come for Amma's darshan throughout the night.
The second day's darshan finished at 2.57 am.
-Kannadi