31 August 2018, Amritapuri
Amrita Vishwa Vidyapeetham's 15th Annual Convocation & Graduation Day Ceremony of Amritapuri Campus saw more than 1,325 undergraduate, post-graduate and Ph. D. students attaining their degrees in the presence of both Chief Guest, Dr. K Sivan, Chairman, Indian Space Research Organisation (ISRO), and Amma, who is the also Chancellor of Amrita University, on Friday.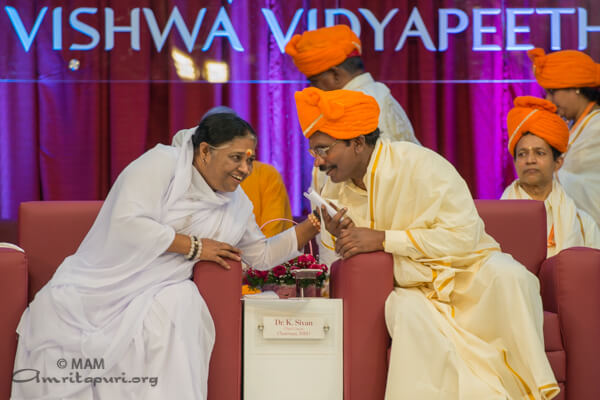 In his speech, Dr. K Sivan, Chairman, ISRO urged that each student must contribute towards the development of the nation and that this is possible only when students take up their tasks without fear of failure.
Amma told the graduates, "In the present times when the harmony of nature is getting more and more disturbed, the world's hope rests on students like you. The confluence of love, compassion and societal responsibility in students like you should lead the world towards peace. Rather than just thinking only about your own needs, you should also think about what you can contribute towards the betterment of the world."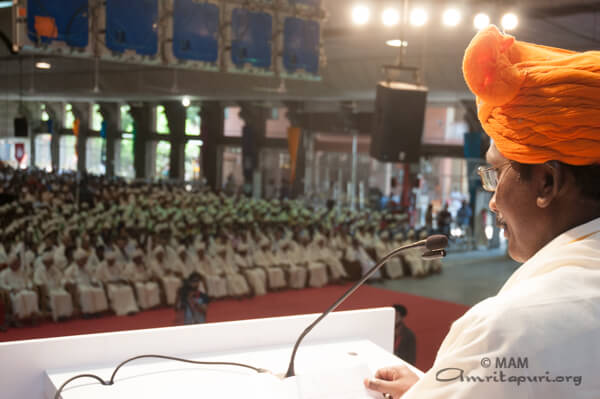 Amma told the graduates, "Your lives should also be for the service of the world. You should try to understand what is needed to protect the harmony of nature and put it into practice. At the same time, you should move forward, keeping your faith in the divine power that controls everything. Spiritual knowledge should be our eyes. Science should be our arms. Our life should be in such a useful way that with the knowledge we gained will be helping the world. For this, our heart should be filled with compassion."
The colourful Graduation Day ceremonies started with all the students dressed in traditional golden Kerala clothing and graduation caps, participating in a procession to the Amritapuri Ashram's main hall, where the ceremony took place.
Amrita Vishwa Vidyapeetham's President, Swami Amritaswarupananda commented in his address that the essence of society is the student community and that gaining knowledge is a continuous process. Everyone should spend each moment of his life for the betterment of the society, he said.
The graduates belonged to the branches of Arts & Sciences, Ayurveda, Biotechnology, Business, and Engineering.