From late July – August 2018, Kerala was hit by devastating floods and landslides, caused by unusually high levels of rainfall. The worst flooding in Kerala in nearly a hundred years, more than 400 people lost their lives and more than a million were displaced.
Amma and her children were quick to respond. "Each day we see the rain just keeps coming," Amma said as the disaster unfolded. "Each time it starts up again, we know it is causing more and more destruction. My heart goes out to those families who are losing their homes and dear ones. We want to help them in whatever way we can."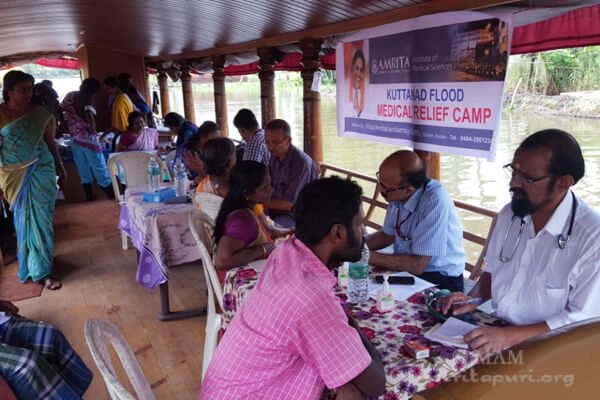 The Amrita Hospital sent out medical relief teams of doctors and paramedics who provided round-the-clock medical care, conducting dozens of medical camps in hard-to-reach areas and treating thousands of patients. In some places, the teams had to deliver service and medical assistance by boat as the areas were so deeply flooded. And in the remote, hilly areas of Wayanad District, the teams had to hike in on foot to reach those in need. Tele-medicine and an ambulance van accompanied them were very helpful.
Truckloads of food, drinking water, clothing and blankets were brought to relief camps as well as hard-to-reach areas. Many survivors said that Amma's Ashram was their only source of drinking water as the flooding raged on.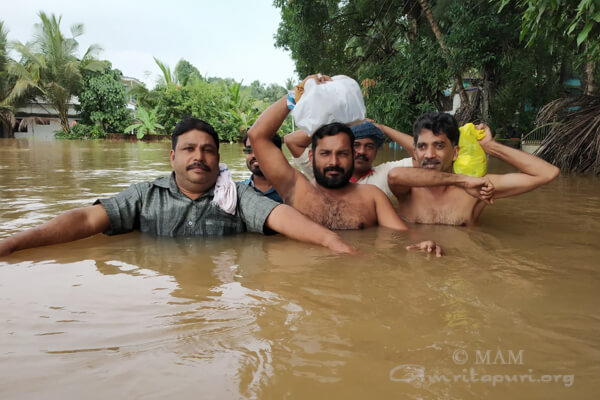 More than 30 Amrita Vidyalayam schools across the state were converted into relief camps, each one sheltering 1,000 or more flood refugees as the disaster unfolded. The swamis, brahmacharis and brahmacharinis and other ashram residents personally visited the relief camps, providing solace to the survivors as well as food, drinking water, medical care, clothing, and blankets.
AYUDH members were absolutely integral to the relief efforts, collecting and distributing relief supplies, and organizing clean-up drives.
When the floods started, students and faculty at the Amritapuri Campus of Amrita Vishwa Vidyapeetham, were desperate to think of some way to help the hundreds of thousands of Kerala flood victims. The Amrita Cyber Security team used web crawlers to prepare verified lists of willing suppliers and volunteer groups. AYUDH used this information to connect relief centers and suppliers to local volunteer groups who could deliver the materials.
Meanwhile, feeling that they had to do something, on August 16th, volunteers from the campus set up a 24-hour call-in rescue helpline. Within the first five days, the team fielded more than 25,000 calls, connecting more than 100,000 flood victims across the state with appropriate relief services, including government officials, the Navy, NDRF, Kerala State Police, local fishermen and other volunteering agencies. The helpline services also ensured that rescued victims were provided with food and clothing and other basic necessities.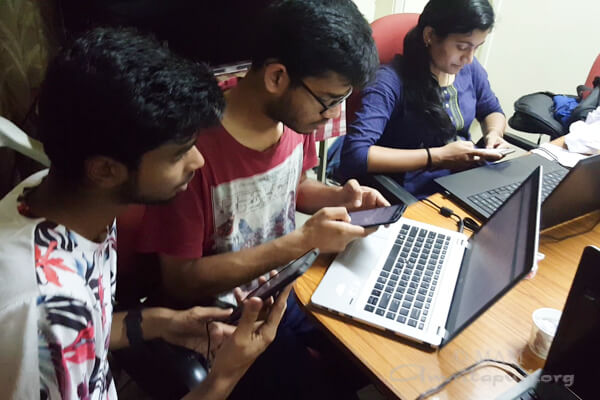 In coordination with AYUDH members, over 400 Amrita students and staff worked in three shifts for five days straight, with 20 phone lines in order to ensure every single call was answered. Not only did the Amrita volunteers work the phone line, they also fielded help requests via social media as well.
"I can speak for all of the volunteers when I say that we are ecstatic to be able to help in this small way," said AYUDH Coordinator Amritesh. "We got a lot of positive feedback from the Indian Air Force and Navy, telling us that the information collected through the Amrita Helpline has helped them to better target their rescue and relief operations and to follow through with greater speed."
The volunteers also made direct contact with local fishermen, who were using their fishing boats to rescue people stranded in their flooded homes. When the call center
received a call from a woman who desperately explained that her elderly mother was clinging to her back, while she held a baby in her arms above the rising waters, the call center volunteers reached out to a nearby fishing boat and within ten minutes, the woman, her mother and child were all saved. Learning of her rescue, the woman's husband, in gratitude, sends truckloads of relief supplies to MAM which were distributed to those in need.
The call center also received a call from a man asking for help as he was stranded in his home. They sent a fishing boat to the area, where the fishermen discovered an elderly couple inside a house, up to their neck in floodwaters. The couple was astonished to see the fishermen, saying, "How did you find us?" The men explained that they had received a call. "We couldn't call," the couple explained. "We don't own a mobile phone. As the waters rose, all we could do was pray to Amma that she would send someone to rescue us." As it turned out, the call had come from another person who was stranded next door and rescued soon after – his call resulted in his own rescue as well as that of the elderly couple next door.
All told, the Amrita Call Center handled 22,000 confirmed rescues and responded to calls for cleaning, electrical maintenance and even cattle fodder as well.
Additionally, the Amrita Center for Wireless Networks and Applications quickly deployed a mobile app specifically designed to assist those in need. The app allowed stranded people to quickly share their current location and urgent needs with rescue teams.
Help came from outside Kerala as well. The brahmacharis in charge of ashrams in Mysore, Mumbai, Chennai as well as in San Ramon, California organized shipments of relief materials to be sent immediately to the flood-affected areas and to support MAM's relief camps.
As the flood waters recede, and as the spotlight wanes, Amma and MAM remain fully committed to helping the survivors with their recovery for as long as it takes. Next steps for the Math include focusing on disease prevention, ongoing treatment of injury and disease, and finding ways to re-house those who have lost everything. Some survivors are still staying in the schools, saying they have nothing to go back to. Amma is also pointing out that the disaster did not emerge in a vacuum. "Nature is so out of balance these days," Amma said. "We see very clearly how the climate is changing. In the non-rainy season, it often rains very heavily. The summers are getting hotter and longer. In some places where it has never snowed before, suddenly snow is falling. Crops are failing. Trees do not bear fruit. We need to proceed carefully with the awareness that each of us has a responsibility to protect Mother Nature. From planting trees and recycling to carpooling to not using wasteful plastic—each of us must do our part and pray for God's grace. These days it seems everyone is aware of their rights, but no one is aware of their responsibilities."
All told, the Mata Amritanandamayi Math has donated Rs. 10 crores ($1,418,000 U.S.) to the Kerala State Government for the relief effort. If you wish to contribute to Amma's rehabilitation process you may do it here.
For Kerala flood rescue and relief day to day updates – click here