21 July 2018, M.A. Center Germany
Concluding event of AYUDH's 14th European Youth Summit
Regardless of who we are, what we do and where we come from, there is one thing that we all have in common: The desire to be happy. Yet in our everyday lives, there is considerably little talk about what real happiness actually is, how it can be attained, sustained and shared.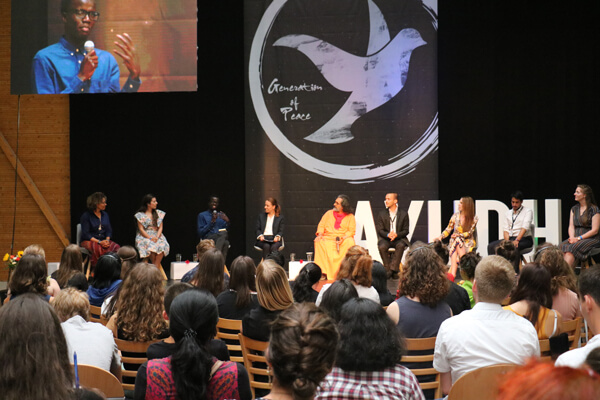 Today, young people especially are struggling to find meaning, purpose and fulfilment in a world of ever-increasing and ever-changing impulses and stimuli. In between social media likes and dislikes, peer pressure at school and a lack of positive role models, youth find it hard to develop the emotional and spiritual intelligence to maintain a healthy and well-balanced state of mind.
Aimed to explore pathways to creating lasting inner peace and happiness, the concluding event brought together youth and experts from the fields of spirituality, psychology, policy-making, media and education to share their stories, views and insights around this subject.
Swami Amritaswarupananda gave the keynote address, in which he said: "We all need three things to be happy: health, wealth and knowledge – both internally and externally. Without these, no human can exist. When these three are perfectly in balance, true happiness will spontaneously arise".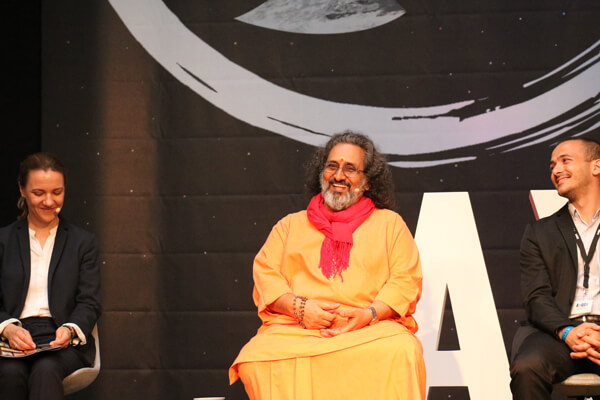 This was followed by an engaging and impassioned panel discussion, moderated by Veronica Soboleva (Russia/France) from Harbour Space University. Emma Kenny (UK), TV psychologist, presenter, writer and expert commentator remarked, "I believe every single day has a lesson, happiness is something we are sold and told, but I think we need to manifest it within ourselves". Simon Kuany (South Sudan), an Educational Expert from UNESCO MGIEP, said: "Happiness is a combination of contentment, resilience, and a sense of understanding that everything is cyclical and fleeting". The final expert panelist was Lucia Rjiker (The Netherlands), former World Champion in Boxing and Kickboxing, actress, coach and personal motivator, who said: "Happiness is not in the pursuit of perfection, it's in acceptance".
Sharing the sentiment of many youth present, Gabrielle Auban, Project Manager from France, concluded: "My greatest happiness is having Amma in my life and knowing I'll never be alone to face whatever comes my way."
Whilst there might be individual approaches to pursuing happiness, all panelists agreed that the foundation for lasting peace and happiness lies in a value-based education, the willingness to give and the empowerment of the younger generation with tools for mindfulness and emotional resilience. Happiness is something that needs to be cultivated from within, and cannot be found exclusively through the pursuit of external attainments.
AYUDH is dedicated to translate these conclusions into action by continuing to provide opportunities for young people to develop personally, participate in service projects and by fostering a community of likeminded youth that are striving to make a difference.
Over the past 12 months, many AYUDH members across Europe have initiated more than 40 service projects, reaching over 1,300 community members.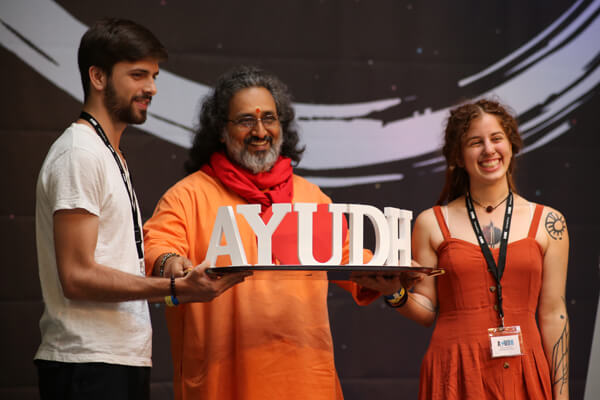 Swamiji presented the annual AYUDH award to the country group with the most outstanding initiatives, which this occasion was Greece. Their activities included a feeding project for the homeless, a beach cleanup, an online campaign to spread awareness on the ecological benefits of veganism and a zero waste challenge. They furthermore advocated for Gender Equality and organized one of the three Social Impact Leadership seminars in Athens, Greece.
Last but not least, new AYUDH initiatives were presented as part of the event: a series of workshops in schools on combating hate speech online and promoting digital literacy amongst youth, to ensure that the internet is a place for safe and respectful dialogue – promoting happiness and not hate.
The event was co-funded by the European Union and carried out in partnership with the No Hate Speech Movement.