4-6 July, New York — America Yatra 2018
Amma's 32nd visit to New York took place in the heart of Manhattan — Times Square. Amma's face was shining on Broadway — adding a touch of the spiritual amongst the glittering advertisements of Times Square, attracting thousands walking the street to come and receive her embrace.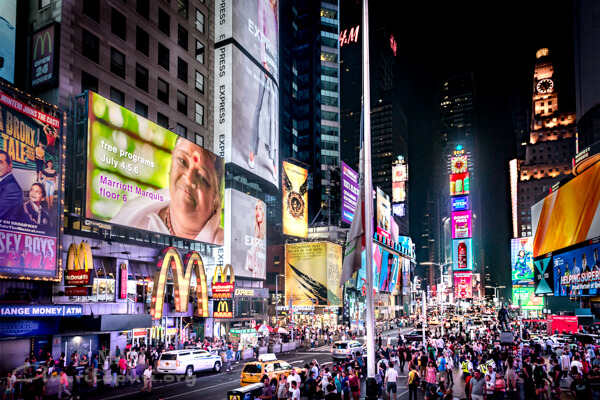 The program — as always — was marked by musicians and artists making their annual pilgrimage to receive Amma's embrace and offer their performances. The first day welcomed a performance by "Samuel J," a prominent vocalist, composer, producer who identifies with Amma's message of love and respect for Nature and expresses this through his music. And the second day found longtime Amma devotee and rock guitar legend J Mascis performing with devotees Devadas Labrecque and Tony Jarvis. At the end of the first night of embracing people all day, Amma herself rocked the room by singing a new Punjabi bhajan: Jaga Janani Tu De Bhakti Tu. The crowd joyfully sang and danced along as the song got faster and faster.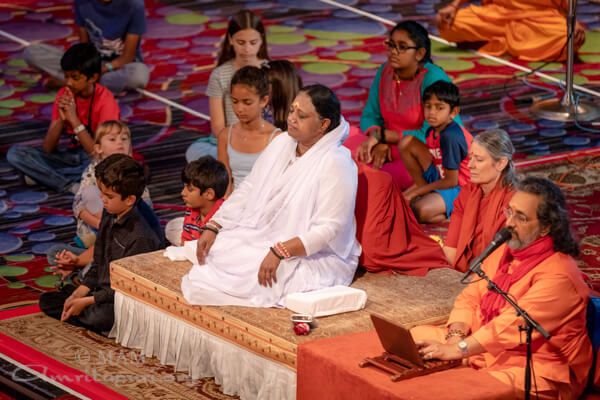 The second day Amma was greeted by the Consul General of Mexico in New York, Diego Gómez Pickering, who said he was deeply touched by Amma's message of compassion for all. He said, "It's a time of a great many challenges in the world. In a time like this, Amma's teachings are more relevant than ever and bring us to a better and more united world."
AYUDH Americas members, excited to represent their Mexico chapter, received seven saplings to be planted as part of the United Nations' billion tree campaign as well as their youth-designed Nurturing Nature initiative.
Amma's stop in New York marked the second year of the opening of her brand new New Rochelle center. The center is now a hub Amma's spiritual and humanitarian efforts in the region, home to monthly satsangs and prayers for peace, weekly soup-kitchen drives and various Nature-oriented efforts.
-Dass