18 March, Chandigarh, Haryana – Bharata Yatra 2018
It was Amma's first visit to the city of Chandigarh, which is the capital of two states and a union territory (a capital of its own). The name "Chandigargh" comes from the temple of Chandi (a pseudonym of the Goddess Durga), which is a fortress situated on top of the mountain. The city is also known as "the beautiful city" because of the greenery, layout, and architecture.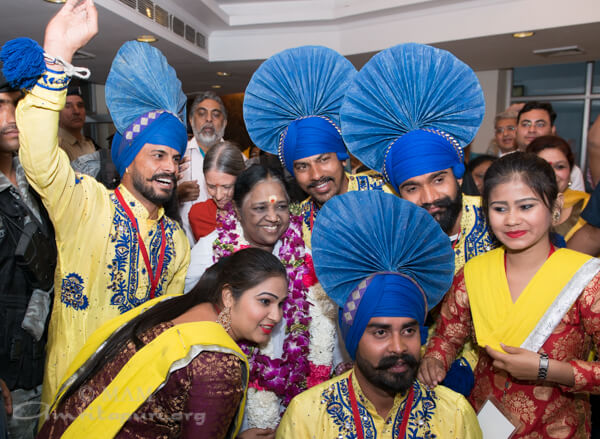 When Amma arrived to the Chandigargh program, she was welcomed with Bhangra, the traditional Punjabi dance. As well, there were a group of Tamil devotees with Mulapari (grain sprouts in pots). Baba Lakha Singh from Nanaksar had also come to honour Amma by offering a garland and a big sword' (a symbol of the Sikh religion).
Haryana Governor, Kaptan Singh Solanki; Haryana Chief Minister, Manohar Lal; Punjab Minister of Forests & Social Welfare, Sadhu Singh Dharamsot; Haryana Finance Minister Captain, Abhimanyu; were amongst the dignitaries there to greet Amma on stage.
Governor Kaptan Singh Solanki, addressed the crowd, "Mata Amritanandamayi Math has been doing excellent service in the areas of education, health, and humanitarian work by building schools, hospitals, and university campuses across the country. I am sure Amma's presence among the people of Punjab and Haryana will begin a new chapter in their social and spiritual upliftment."
Solanki also distributed saris and working capital to 29 women representing self-help groups from Amma's adopted villages, such as Pandori (Jammu), Indpur (Himachal Pradesh), Kanti (Haryana) and Maira (Punjab).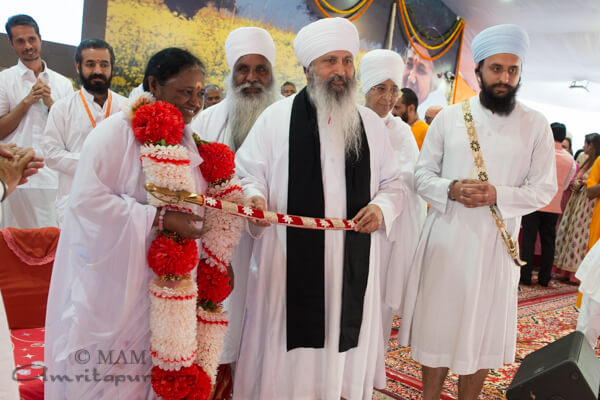 Chief Minister, Manohar Lal, said, "Amma's name is synonymous with love, compassion and service to the mankind. The Government alone cannot do all the development work. Spiritual leaders like Amma and their humanitarian institutions have a big role to play to fill the gaps and ensure the wholesome development of the people."
Lal also handed over certificates to villagers for "Jivamritam" units installed by MAM, each of which can provide filtered water to 400 to 500 five-member families in a village.
Though Punjab Chief Minister Capt. Amarinder Singh, couldn't make it to the program, he sent a written message to Amma in which he said, "I am happy to know that you will be gracing Chandigargh with your august presence. This will provide the people of Chandigarh as well as adjoining areas an excellent opportunity to gain from your spiritual knowledge and be blessed with your darshan."
Sharing the wisdom of her spiritual insights with thousands of devotees, Amma said that all problems in the world have arisen because man has forgotten his real essence. Amma explained that everything in the world has two parts—the external form and its inner essence. It is only when these two aspects come together that anything attains completeness, she said. "However, today man gives importance only to the body and sensory pleasures." Amma went on to say. "Man has stopped considering the true self—the indweller. When we only acknowledge the external and discard the internal, it creates a state of imbalance. This is the main reason behind all the problems we see in the world today."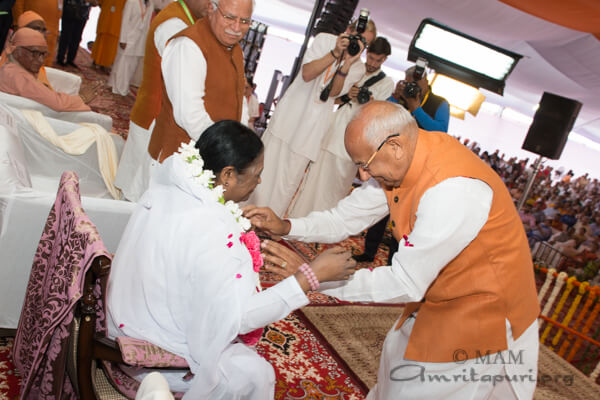 "The mind is a good servant, never a good master. As our attachment towards external objects grows, our mental strength weakens." She reminded the crowd. "Let us try to make the best use of the present moment."
Amma sang many Hindi and Punjabi bhajans. She also led the crowd in a Manasa puja and meditation, instructing everyone in the Punjabi language.
Many volunteers helped to make the program a success. Interestingly, Namdhari Sikh volunteers who worked in Lagnar (dining hall), during darshan they all gathered on stage to take a photo with Amma for which she happily agreed.
Concluding the program, everyone full of joy and happiness, Amma returned to Delhi to catch her flight to Malaysia for the next program there, concluding the 2018 Bharata Yatra.
-Kannadi