10 Mar, Ahmedabad, Gujarat – Bharata Yatra 2018
Amma arrived in Ahmedabad around 3 AM in the morning after a long drive from Mumbai. Devotees were patiently waiting for to greet Amma at Amrita Vidyalayam where she was staying.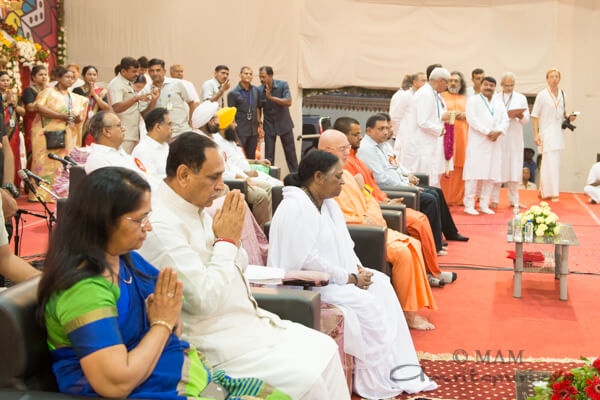 The next day, during the evening public program, Chief Minister of Gujarat, Vijay Rupani, was there to welcome Amma to the city with a powerful speech:
"If we have to define a holy person and God, we can say that where there is pure love and compassion that is the embodiment of God.
"In this materialistic world, Amma's hug has helped countless people experience pure love and compassion. That should be considered society's benefit and upliftment. This unique experience has attracted crores of people to her. Through this unconditionally compassionate love, negative qualities like greed, anger, and jealousy are removed and solutions to various problems are found.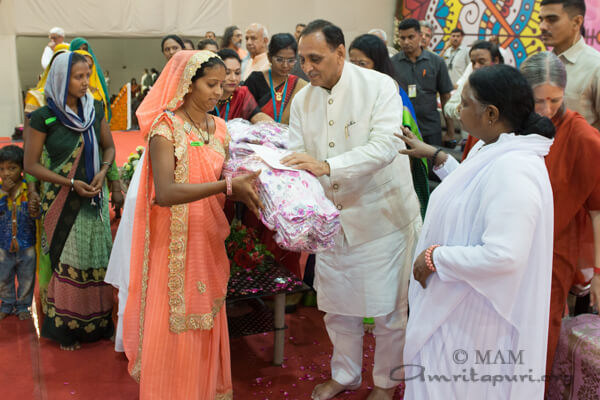 "Amma's love and concern for the downtrodden and her efforts to uplift them is unparalleled. This will surely lead to progress and development of our society in the times to come.
"Her untiring focus on women empowerment through providing education and self-employment is also building the foundation for an empowered society.
"Amma's presence in Gujarat has been felt in many ways, such as earthquake relief in Bhuj, the adoption of various outlying villages, and aid for the schools of Ahmedabad. This type of work is seen all over the country, whether it be the cleaning of Ganga or the multi-campus universities. Very few saints like Amma devote all their efforts to such upliftment of society.
"The embodiment of God, Amma's arrival here brings happiness to one and all."
During the program, Amma distributed saris and working capitals to AmritaSree Self-Help Group members. She also gave saplings to AYUDH members in order to promote organic farming.
Amma delivered a Satsang and sang many Gujarati bhajans. She also led everyone in a Manasa puja instructed in Gujarati (the local language), bringing delight to the devotees of Ahmedabad.
During Amma's darshan, Amrita Vidyalayam children presented a variety of cultural programs.
At the end of darshan, Amma sang two songs including "Madur Madur Koyal Bole." The devotees danced joyously to music celebrating Amma's visit.
By 6:45 AM the next morning, the sun was shining high above the horizon as the light of love and compassion filled the hearts of the Ahmedabad devotees. Amma departed soon thereafter, beginning the long journey to Delhi for the next program.
-Kannadi