20-21 February, Mangaluru, Karnataka – Bharata Yatra 2018
After the Vadakara program, Amma planned to travel straight to Mangaluru, but before she left the city, she visited the Vadakara ashram. The devotees there were overjoyed, and in spite of a whole night spent giving darshan after darshan, she was as cheerful and loving as ever with all the devotees at the ashram.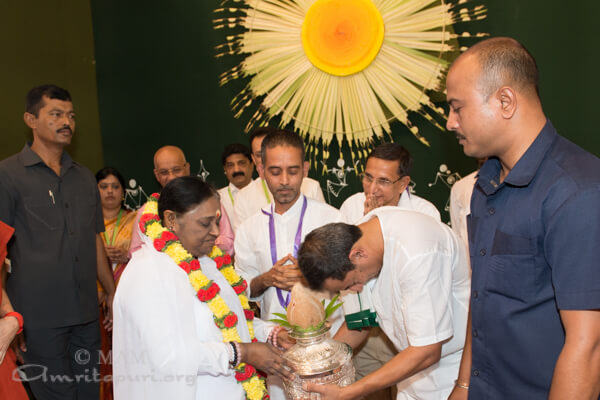 Amma travelled to Mangaluru after her visit to the Vadakara ashram. The following day Union Minister for Tourism and Culture, Dr Mahesh Sharma; Union Minister for Skill Development and Entrepreneurship, Ananth Kumar Hegde; State Minister for Sports and Fisheries, Pramodh Madhwaraj; MLA, J R Lobo; and Mayor Kavita Sanil were all on stage to welcome Amma to Mangalore.
Speaking on the occasion, Minster Dr Mahesh Sharma said, "Amma is famed for her selfless service, and with her compassion and care for the poor, she has won hearts. Lakhs of people have benefitted from Amma's pro-social projects."
Parmod Madhwaraj, State Minister for Sports and Youth, said, "Mata Amritanandamayi Devi never does service on the basis of caste or religion and always gives importance to humanity. This is the main reason crores of people love her."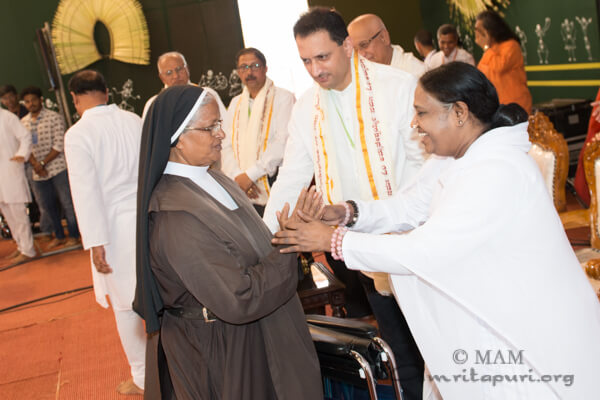 As a token of her thanks to the people of Mangaluru, twenty-five free wheelchairs were given out to the handicapped, sixty-four scholarships to Vidyamritam were given to those suffering from financial hardship, two hundred Amrita Nidhi pensions were given to senior citizens, twenty-five women were given sewing machines for self-employment, sports equipment was given to the Government Higher Primary School, Urwa (which recently celebrated its centenary), and dustbins in three colors were distributed as part of the Amala Bharata campaign promoting cleanliness in local schools.
The stage setup was simple but elegant, decorated with palm leaves and paintings of Varli. Amma sang bhajans and led a Manasa puja in Kannada. Her satsang was also translated into Kannada.
Amrita Vidyalayam children from different schools presented various cultural programs. The local devotee group presented "Yaksha Gana," a traditional dance and musical drama that captured the hearts of all that watched.
-Kannadi