07 Feb 2018, Amaravati, Andhra Pradesh
Andhra Pradesh Chief Minister Sri. N Chandrababu Naidu today laid the foundation stone for Amrita Vishwa Vidyapeetham's 200-acre campus at Amaravati, the defacto state capital. Over the course of two decades, the new facility will see an investment of more than Rs 2,500 crores.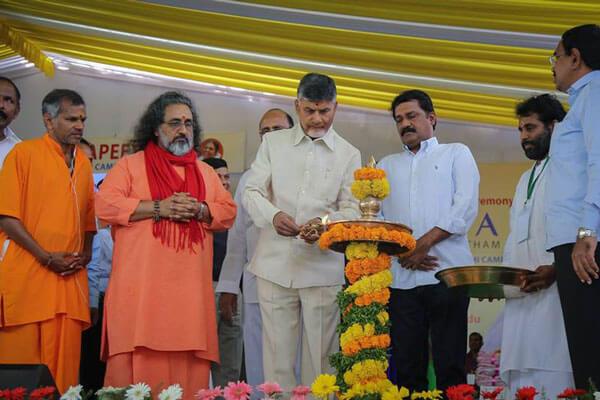 Speaking on the occasion Swami Amritaswarupananda, said: "Amma says education should enrich students both internally and externally. Collecting information from the world, books, and instructors are only a part of it. For real education to happen, the student's heart must open up. This cannot be gained by merely increasing one's intellectual capacity. Nurturing this is the ultimate goal of Amrita."
The Chief Minister said "Amrita is number one among all private varsities in India. As part of Mata Amritanandamayi Math, it will offer students strong moral and cultural values along with regular academics. That is why I give it great preference."
The Amaravati campus, once completed, will offer the full complement of courses including Engineering, Management, Medicine, Humanities, Arts & Sciences, Bio-Technology, Nanosciences, Philosophy, Yogic Sciences, Ayurveda and other upcoming technologies. It will have state-of-the-art infrastructure, having tie-ups with top-ranked universities globally.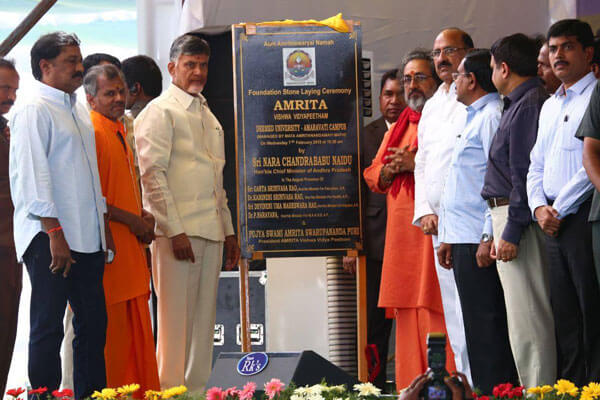 "As a top-ranked deemed-to-be university, we feel immense pride and joy in expanding our geographical footprint to Amaravati, which will be our seventh campus. It will impart education for life, not just to make a living," said Dr Venkat Rangan, Vice Chancellor of the University.
"The Amaravati campus will be constructed in two phases – the first phase will comprise 150 acres and the second phase, 50 acres. Admissions will begin in 2018 for courses such as Computer Science, Information Technology, EEE and MBA – HR, Finance, Marketing, Production, Operations and strategy. By the year 2020, we expect to reach 2,000 students, starting with 300 in 2018. It will have state-of-the-art R&D centres doing cutting-edge research in frontier areas of technology, with a particular focus on societal benefit. To ensure academic excellence, the ratio of students to faculty will be kept at 10:1." said& Br. Sadasiva Chaitanya, Director of Amaravati Campus.