24-26 November, Châlons-en-Champagne, France – Europe Yatra 2017
For the first time, Amma visited Châlons-en-Champagne, France. Her three days of programs were held at the Le Capitole arena. The sprawling arena was filled with devotees who had gathered with great enthusiasm to celebrate Amma's 30th year of visiting France.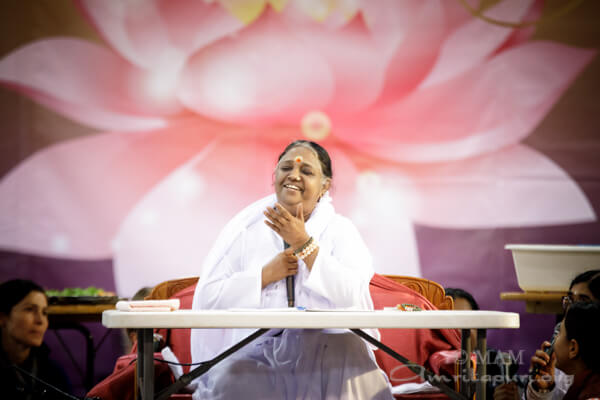 On the second day of programs, a special function was organized to welcome Amma to the region and to celebrate Amma's anniversary visit. The evening kicked off with a new short film featuring footage of Amma in France interspersed with interviews of French volunteers sharing their personal stories on how Amma has transformed their lives. As part of the event, Amma was presented the European Star of Dedication medal. Monsieur Traxel, President of the European Star of Dedication organization, addressed Amma before he presented her with the medal: "The European Star is devoted to encourage those who dedicated themselves to other's well-being, who share the values of mutual assistance and solidarity. My dear Amma, through your NGO, your actions impact the world: the poor, the needy, the old people, the children, the unfortunate. You are a symbol throughout the world. It is a huge honour for me to give you this Star, this award, which is a small encouragement for you to continue the path that you never cease to take."
Renowned singer Liane Foly was also on hand to welcome Amma. She said, "Amma, when you love us, we are stronger, we become brothers and sisters and nothing can stop this love. With all my gratitude and my appreciation, I am trying to honor your values through my work as an artist, with my deepest and most spiritual thoughts. I embrace you tenderly, beloved Amma, as you just did with me. You transform us. Thank you."
Acclaimed filmmaker Guillaume Mouton invited the assembled crowd to contemplate on the opportunity to be with Amma and what to take away from this night: "Tonight we experience something wonderful, we have an amazing opportunity to be able to meet Amma and to meet her physically. When we go back home, we might be tempted to keep on with the same conflicts, the same problems but we have the potential to do so much better. That's what Amma is showing us. I want to invite you to follow Amma's example and to embody it in our lives – to love and to encourage each other."
In Amma's remarks to the assembled crowd, she spoke about the meaning of true prayer: Prayer is not a way to fulfil our selfish desires. It is a yearning that arises from our heart. It is a sincere request to the universal energy: 'May all beings in creation be peaceful, happy and prosperous.' This is the only kind of prayer that really benefits the individual, society and all beings in creation equally."
The crowd was also treated to memories of Amma's first-ever visit to France by Cathy, who has been one of Amma's program organizers in Paris ever since. "On July 15th, 1987, a small group was waiting at the airport, so eager to meet Amma for real. We were also really anxious, because it was like a world meeting another world. And there she was, tiny, wearing a sparkling white sari exactly like tonight with the biggest smile. She was radiant and full of energy. She was looking at us, one after the other, smiling and laughing. The 5 or 6 of us did not seize what was happening. It took a while for the luggage to arrive, so we filled the time with an amazing simplicity, we all sat down on the floor in a small corner of the airport. She kept smiling and looking at us. She asked what my name was and I could not answer, I did not even remember my name. That year, we used tons of tissues: every single one of us, young or old, all cried in her arms every time. I could tell you many stories but the time is short, so I just want to thank Amma for everything she has brought me. She makes me grow and understand myself a little better and also life and others as well."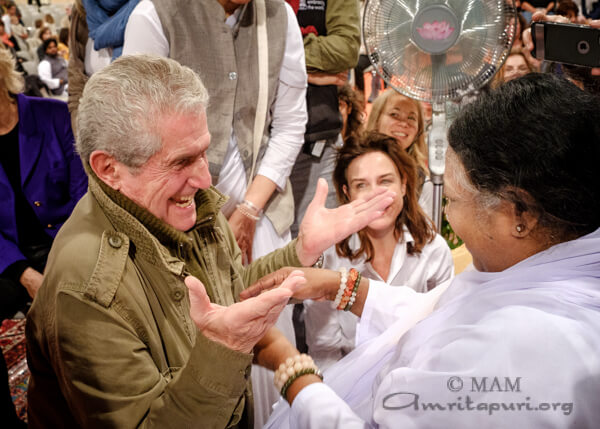 At the close of the 30th anniversary ceremony, Amma blessed several trees that will be planted at the French ashram in Ferme du Plessis. Amma offered the trees to three generations of volunteers from the ages of 3 to 85. Afterward, the theme of gratitude continued in a beautiful song sung by the volunteers. The essence of the French lyrics was "Thank you for coming to France and showing us how to love and serve."
As the song concluded, there was a surge of joy and love in the crowd. Not only were all cheering and celebrating, but they also tossed hundreds of brightly colored balloons in the air! Then, spontaneously, each person stood up until the entire crowd was on their feet, expressing their gratitude for Amma in a standing ovation that lasted nearly ten minutes. It was a magnificent moment of celebration and the crowd did not show any sign of tiring. Finally, Amma's translator had to gently bring the cheering to an end so that Amma's satsang could begin. The three days of programs in Chalons-en-Champagne will surely remain etched forever in the hearts of all those who attended.
-Kannadi