17-18 Nov, London, Europe Yatra- 2017
Amma's visit to London was held at the Sandown Racecourse in Surrey. It was Amma's 30th visit to London, and the occasion was marked by a special ceremony on the first evening of programs. Special guests included Academy-Award winning director Shekhar Kapur and Ambassador Dinesh K. Patnaik, Deputy High Commissioner of India to the United Kingdom, and Maddy Harland, co-founder of the Sustainability Centre in Hampshire, Fellow of the Royal Society of Arts and the Institute of Theological Partnerships at the University of Winchester.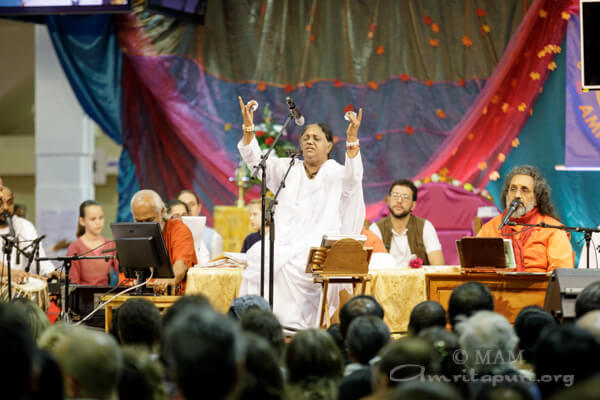 Ambassador Patnaik reflected, "When I see all of you sitting here with such incredible faith in a person like Amma, I realize that this is what is moving the world. This is what keeps the world intact. This is the faith that is strong enough to overcome any barriers… All of us have the ability to talk well, do well, we're individuals with the same composition. But here is a person who can inspire you. But more than that, she uses her inspiration, not for a personal gain, but to do greater good. Faith and inspiration move this world. Fatherhood is a concept, motherhood is a reality."
Maddy Harland said, "Meeting Amma and hearing her teachings some years ago has been one of the highlights of my life. Amma is a spiritual teacher, as you all know here, of the utmost power and insight in a world of escalating climate chaos, environmental destruction, displaced people and poverty. Her practical approaches to solving ecological and human crises collectively are quite unique. Amma is also a pioneer of health and hygiene through the clean India campaign and beyond." She continued, "Amma's holistic approach is spirituality in action. It's the way we all need to live. We need to preserve this beautiful natural world that we're blessed to live in. Amma teaches us that divinity is expressed through nature and that we are a part of the web of life… Amma is living, embodied proof that another world is possible, and she's using her life to make it so."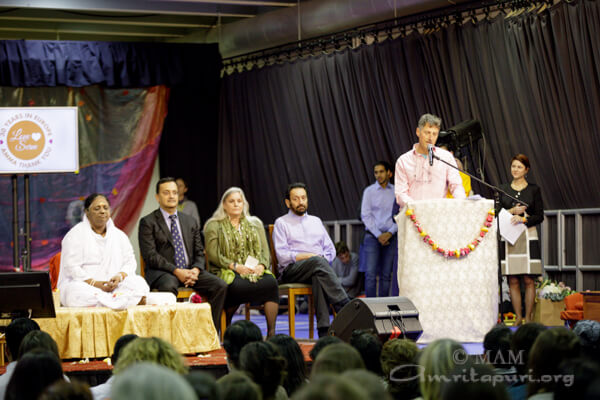 Amma's 30th visit to London and the United Kingdom was commemorated by Mike Sofroniou, who helped to organize that first visit and every one since then. Mike recalled, "In the first year Amma held an evening programme in St James Church in Piccadilly and the sight of Amma singing and calling ecstatically out to the Divine sitting in front of the altar and against the backdrop of the magnificent stained glass window was profoundly moving. It felt as though Christianity and the ancient spirituality of India had come together in the living person of Amma. As she gave her loving darshan afterwards she encouraged us to sit around her and sing devotional songs. People were astonished and overwhelmed by Amma's simplicity and accessibility.
"Then we moved to a small church in Kentish Town in 1989. In those days darshan went on until midnight and we wondered how Amma would be able to keep it up. How little did we know Amma and how could we know then that so many years later Amma would sit throughout the night into the morning hours. Even when all night darshan continued until 5 or 6 am and Amma had embraced people throughout the night when we were short of volunteers Amma would help with the clear up at the end of the programme, cleaning and helping dismantle the stage decorations. This was an act of compassion towards us and a wonderful example to every one of service and utter selflessness.
"It is this incredible example of selflessness and of living her life to exemplify her teachings that has drawn us all here today. Through the privilege of being able to help with the programmes in London I have experienced an incomparable education. I have found myself learning to do things which I had had no experience of and found very challenging and with Amma's protective grace I have gained more confidence and hopefully some skill which has helped me in every aspect of my life; for this I am very grateful."
The UK chapter of Amma's environmental movement, GreenFriends, had pledged to plant 1,000 trees on a year earlier, on the occasion of Amma's 29th visit to London. One year later, they were pleased to announce that they had surpassed their pledge, having planted 1,684 trees in various parts of the UK. They also announced that an acre of Woodland within the proposed World Heritage Site known as Darwin at Downe would be christened Amma's Wood, in recognition of GreenFriends' commitment to planting trees in the United Kingdom.
Amma honoured and recognized this effort, giving saplings to three generations of devotees as part of the 30th anniversary celebrations.
In her message, Amma spoke about the importance of recognizing the changing nature of the world, and on learning to control our own mind: "The circumstances of life will always keep changing. Change is nature's unchanging law. However, it is we who make experiences bitter or sweet—our mind and our attitude. As long as we are unable to bring our mind under our control, sorrow will continue to hunt us down. However, once the mind comes under our control, then no problem or tragedy can devastate or paralyze us."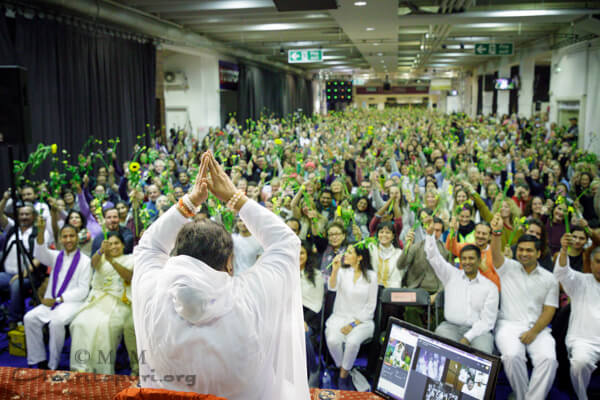 The devotees of the UK also had a surprise for Amma – at the close of the 30th year celebrations, each of the thousands of people in attendance held up a yellow British wildflower, waving it gently in the air, creating a vision and feeling of a massive, peaceful valley of flowers, gently blown by the winds of divine grace of love.
-Kannadi