Amma conducted a three day program in Singapore between April 6th and 8th at the Marina Bay Sands Convention Center.
Organised by Amriteswari Society, the event marked the 30th anniversary of Amma's first travel from India abroad that began in Singapore on March 16th, 1987. In the manner and commitment to the idea of giving selflessly, Amma has become a powerful role model to people of diverse age, religious and ethnic groups in Singapore.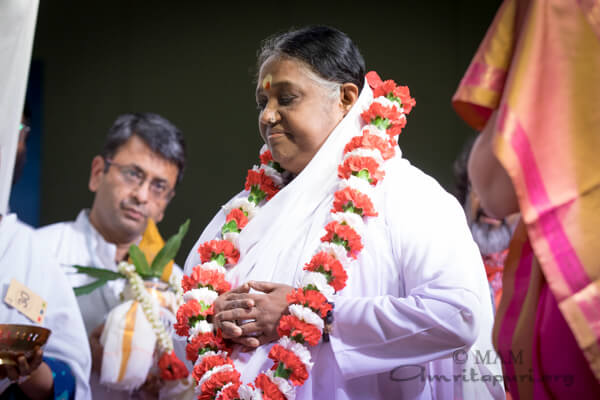 The sight of Amma arriving on stage, raising both her palms above her head greeting all, her white sari against a turquoise blue and green backdrop that bore peacock feathers and the words "Journey of Love" provided an exquisite and inspiring visual.
A new book was released on the occasion of Amma's visit titled "A Journey of Love: From Singapore and to the World" to celebrate Amma's maiden journey from India 30 years ago, first to Singapore and then to other countries, to embrace the world.
As a collective commitment of a new generation for carrying Amma's vision and values forward, members of AYUDH Singapore took a pledge in Amma's Presence to practise the core values of love, serving and conserving. Amma then symbolically handed the seeds of these values by distributing plant seeds to the 30 youth who took this pledge.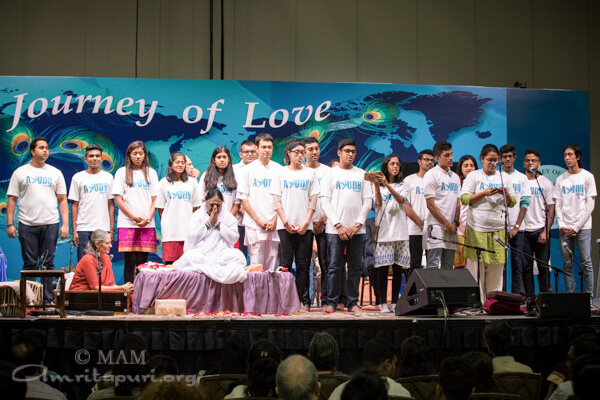 100 young school students were awarded the Society's Amrita Bursary by the Guest of Honour for the evening, Mr. R. Jayachandran (High Commisioner of Singapore to Mauritius and the Chairman of the Hindu Endowments Board Singapore).
Addressing the devotees Amma said: "We bring nothing to this world when we come and we will take nothing with us when we leave. By speaking kind words and doing good actions, we should make our life a celebration."
From Singapore, Malaysia and other parts of the world, people queued up for many hours to attend the three days of Amma's programs in Singapore. Over the three days, Amma conducted meditation, satsang, bhajans and darshan. The large crowds each day were immersed in silence during the long guided meditation sessions with no sound other than Amma's voice permeating the atmosphere. Amma's rapturous bhajans touched and comforted thousands of hearts each day. On the 3rd day, following the collective prayer for world peace and harmony, Amma proceeded to embrace all throughout the night, ending at around 10 am the next morning, with the showering of Amma's blessings on each and every person present, to the singing of Amma Amma Taaye. The people were embraced, consoled and inspired one by one by Amma before she left for Australia.
-Das