March 2-3 Mananthavady, Kerala – Bharata Yatra 2017
Amma's camper pulled into Mananthavady just after dark. The small dirt road leading up to Amrita Vidayalam was lined with bright neon banners and cheering devotees. Reaching the newly constructed ashram, Amma's camper came to a halt. The local devotees were playing drums loudly and singing at the top of their voices. As Amma stepped out of the camper, a brilliant show of fireworks lit up the evening sky over the ashram. Amma made her way up the steps and lit a large puja lamp, officially inaugurating the new ashram building.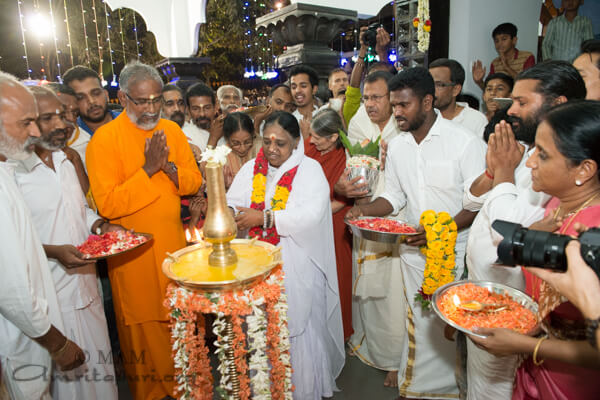 Following the inauguration, Amma proceeded to the program stage for a prasad meal.
The atmosphere was thick with devotion. Amma distributed food to all and sang a round of ecstatic bhajans that had the whole crowd on the edge of their seats. The rustic mountain setting and the pure spirit of the local devotees saturated the entire program grounds. Many devotees were so overwhelmed by the potency of the devotional mood that they made their way to the front of the stage and danced in rapture of Mother's sweet voice. All were filled with an innocent bliss by the end of Amma's incredible performance.
The following two days retained that same pure atmosphere of devotion. The beautiful weather and clean air, coupled with the joyous occasion of Amma's presence, evoked something indescribable in the attendees.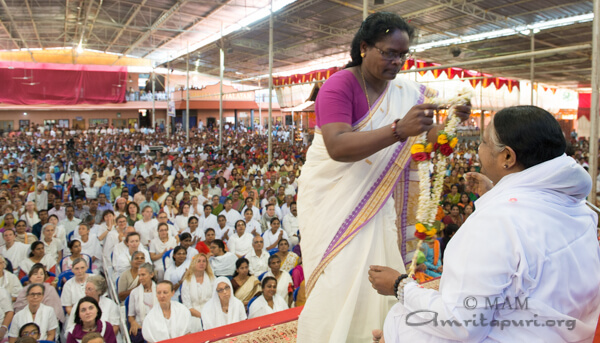 CK Janu, the President of Adivasi Gotra Sabha, and PP Mukundan, a BJP National Executive, were there to welcome her to the city with heartfelt words. In his speech, PP Mukundan boldly asserted that "if you listen to Amma's words and follow them, you will get moksha."
Amma honored the city of Mananthavady by gifting saris to the members of a local self-help group, singing bhajans, leading a manasa puja and meditation for world peace, and delivering a moving satsang. Inspired by the beautiful natural surroundings, Amma spoke on the innate attitude of conservation that people of earlier generations embodied, "Environmental protection was inherent in their very lifestyle, worship and cultural customs. Reverence and respect towards all creatures and creation was an integral part of their life. It was ingrained in them that they should take only what was needed from nature, without exploiting and destroying her."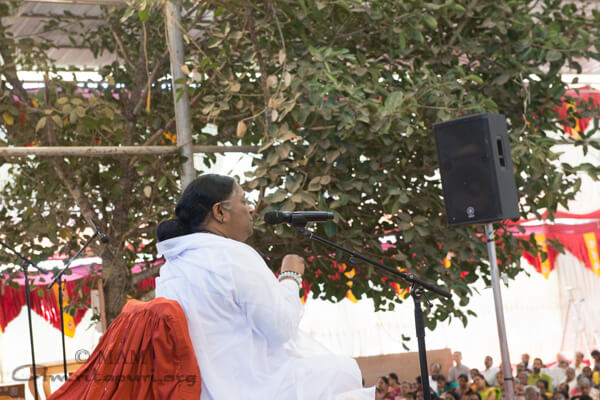 During the two days of darshan, Amrita Vidyalayam students presented plays, sang songs, performed dances, and enlivened the audience with their enthusiastic displays. The crowd was also lucky enough to get a graceful performance of tribal dancing by some local devotees.
The Mananthavady program was a remarkable occasion, one that will be remembered for its pure spirit of devotion and stunning natural surroundings. Though the entire tour group was sad to leave, the city of Mysore awaited Amma's arrival with great anticipation. The buses departed and were sent off with the warms regards of all the local devotees whose hard work and loving attitude made the program such a success.
-Kannadi