6-7 Feb, Chennai, Tamil Nadu – Bharata Yatra 2017
After giving darshan all through the night in Salem, Amma traveled north east and arrived to the capital of Tamil Nadu, to Chennai.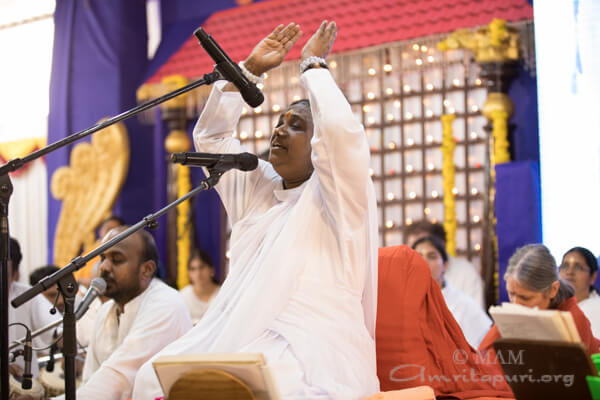 Even though Amma gave non stop darshan in Salem all night and then drove all day, she immediately served a Prasad dinner to all the local volunteers waiting to greet her upon her arrival.
Amma spent the next two days leading all in the annual Brahamastanam festival
As part of the program, Amma extended the reach of her charitable activities in the area by distributing saris to the self help group members.
As has become the tradition in Chennai, while Amma gave during, several distinguished musicians came and performed, including: Embar Kannan on Electric violin, AS Ram on Keytar; Sankari Krishnan, a famous Carnatic singer offering her vocal tributes; the Priya sisters offered a Carnatic musical tribute; Pandit Janardan Mitta, renowned sitar player; Dr Krishna Kumar and Binni Krishna Kumar; and Dushyant Sridhar. In addition to their more famous counterparts, the local Amrita Vidyalayam students also presented different cultural programs.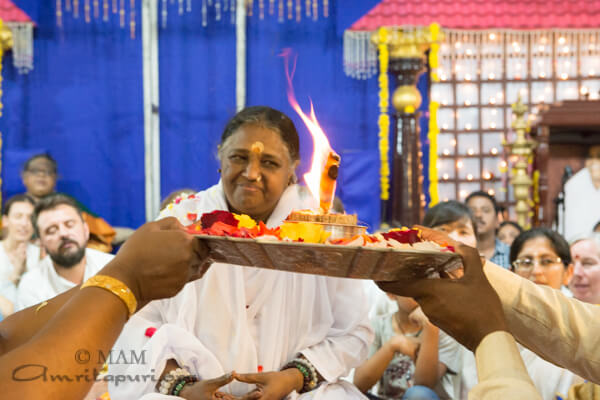 Several local dignitaries also came to meet Amma during the two days including: Subramanian Swami, MP.
Both days Amma sang bhajans, gave Satsang and led the manasa puja in Tamil. Addressing the devotees, Amma said, "When we look at the love that we see in the world today, we see that it keeps fluctuating. Even if the attitude of complementing each other is lacking between partners; at least a little adjustment and flexibility should be there. Otherwise, the relationships will fall apart. It will only lead to anger and hatred. The spring season of life blossoms where there is patience and forbearance. Without these, life will always be like the scorched earth of a desert. In such a place, there will be no flowers, trees, rivers, or songbirds."
-Kannadi