26 Sep 2016, Amritapuri – Amritavasham 63 Celebrations
OceanNet is an Amrita University project offering internet connectivity for fishermen at sea to help them stay safe and provides connectivity up to 60 km -45 kilometres beyond the range of cell-phone towers.  Each boat's coordinates, speed, course is tracked on a land-based server. SOS calls are also supported. The system will be a Godsend for commercial fishermen who regularly spend five to seven consecutive days outside the Internet range.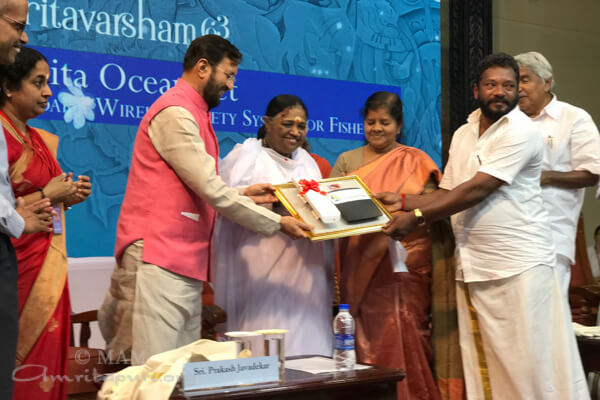 Amrita OceanNet will put an end to the frustrations associated with the inability to communicate one's location and physical-emotional conditions to relatives while at sea. Through this government authorities will be able to disseminate disaster-warning messages to all the fishing vessels.
Dr. Maneesha Sudheer, Director of Amrita Centre for Wireless Networks & Applications said the idea for Amrita OceanNet came directly from Amma. In 2010, a fishing boat in the Arabian Sea collided with a ship. Several people were injured and killed; some were never found. Saddened by this disaster, Amma asked Dr. Maneesha to develop a system to communicate, in real-time, the alerts, disaster warnings, etc. to the fishing vessels.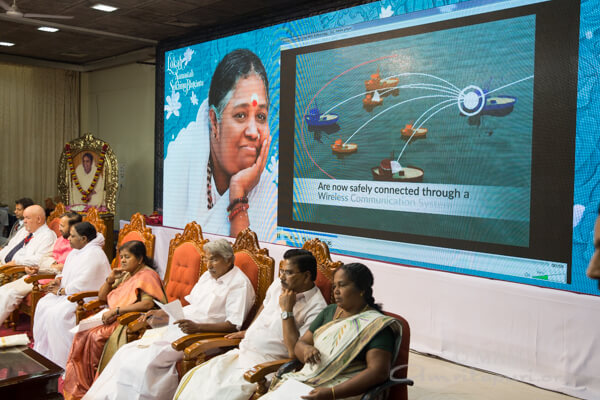 Amrita OceanNet comprises an onshore base-station with Internet connectivity that boosts Internet signals. This boosted signal is then captured by fishing vessels that are equipped with a low-cost Amrita OceanNet receiver-broadcaster system. In turn, these Amrita OceanNet-equipped vessels also become broadcasters. In this way, the Internet signal — through multiple boat-to-boat hops — can extend 60 km beyond the shoreline. A Wi-Fi network is provided aboard the fishing vessel to which the fishermen connect using their smart phones.
Prakash Javadekar, Union Minister of HRD while inaugurating Amrita OceanNet, in the presence of Amma, spoke Live using Ocean Net to Dhanesh, who was at that time on his boat in the Arabian Sea . Javadekar said: "Hello Dhanesh, you are 60 kms away in the ocean, but you are very close to Amma's heart and you will always be protected by Amma".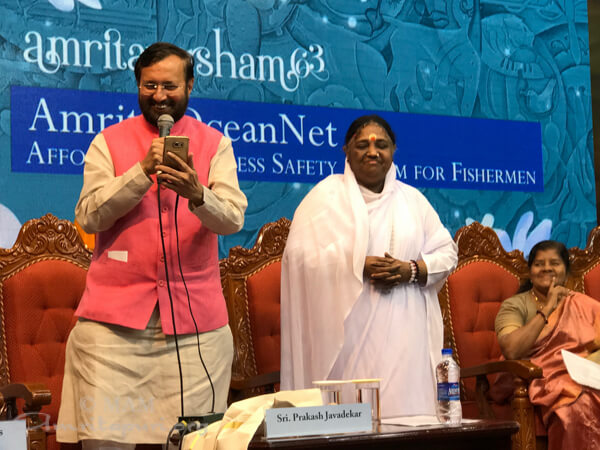 "Amma has brought a great service to the fisherman and the country through Ocean Net, who could not connect with anybody, once they ventured into the seas. In fact now our fishermen will become our Coast Guards, and can even inform our real Coast Guards about any suspicious movements or threats from the enemy coming to attack our country through the high seas.
"God creates, in ages, a guru like Amma,and we are here to get her blessings. Today I am blessed since I am participating in a very noble cause" said the Union HRD Minister Prakash Javadekar.