9 May 2016 — Faridabad, Haryana
Haryana Chief Minister Manohar Lal today laid the foundation stone for the Mata Amritanandamayi Math's new two thousand bed Amrita Institute of Medical Sciences & Research Centre (Amrita Hospital) in Greater Faridabad. The ceremony took place in the presence of Swami Amritaswarupananda Puri, Vice Chairman of the Mata Amritanandamayi Math. The Union Minister of State for Social Justice & Empowerment, Krishnan Pal Gurjar, and a host of other dignitaries also graced the occasion.
May this institution be both a hospital and a temple:
Swami Amritaswarupananda welcomed the dignitaries and read a statement from Amma, which said: "Compassion is both the beginning and the culmination of spiritual life. May this new hospital become an abode of service to humankind and a place of solace for the sick. May all those involved in the building up of this institution have a loving and compassionate approach to everything they do, in all their dealings. May this institution be both a hospital and a temple, where external and internal healing is being provided."

Amma a "Shining Example of a Saint Working for the Poor"
Haryana Chief Minister praised Amma and her charitable works, saying, "India has a long tradition of saints working for social reforms and helping the poor. Mata Amritanandamayi is a shining example of this. She is an embodiment of love and compassion who has tirelessly worked for the welfare of entire humanity. She considers service to the poor as the greatest form of worship. Her Math is doing yeoman service around the world in the areas of education and health. I congratulate the citizens of Faridabad and all of Haryana for her decision to construct a 2,000-bed super-specialty hospital and medical college in Faridabad. It will benefit not only this industrial city, but also surrounding regions like Delhi, Palwal, Mewat and several districts of UP."
Sri. Krishnan Pal Gurjar unveiled a scale model of the Amrita Hospital at the ceremony.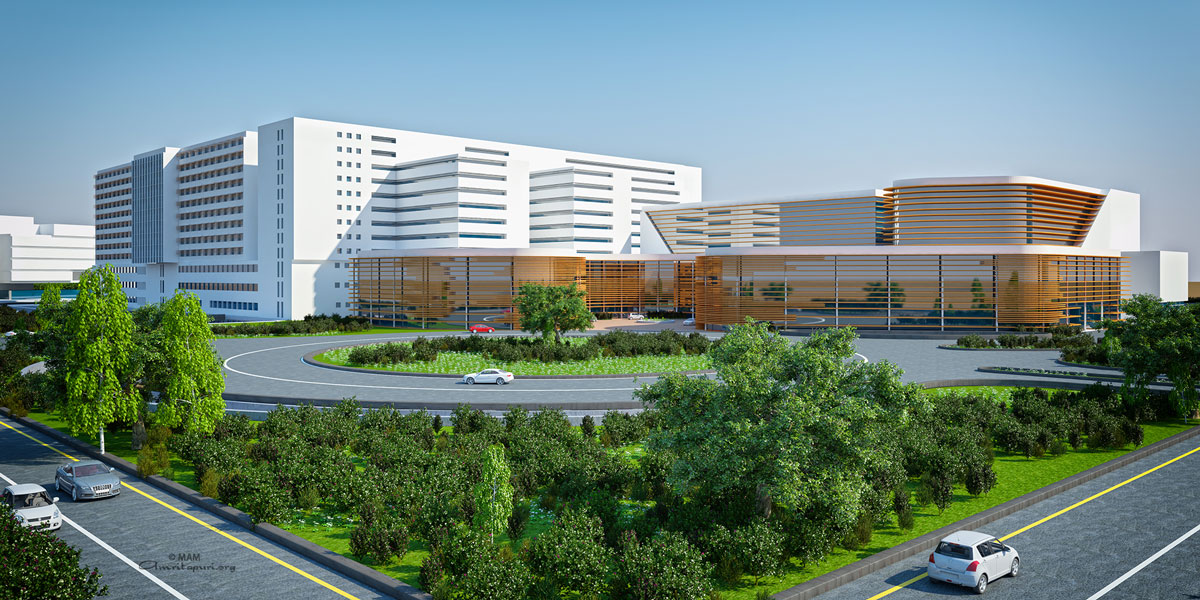 "With a planned facility of 2,000 beds, the Amrita Institute of Medical Sciences & Research Centre is set to become the largest hospital in Delhi-NCR," said Sri. Satyananda Misra, the former Chief Information Commissioner of India, who will serve as the new hospital's Executive Director.
The hospital is being constructed to be GRIHA- and LEED-certified: a green building, with no carbon footprint, zero wastewater discharge, and to be powered eventually by more than 45% solar power. Construction materials used in the project will also be environmentally friendly. More than 70% of the campus acreage is planned as a green area filled with local varieties of trees, plants and shrubs and water bodies. The state-of-the-art healthcare facility spread across nearly 100 acres in Sector 88, Greater Faridabad.