25 Oct 2009, Nairobi, Kenya
AYUDH Kenya participated in the 350 movement on Saturday 24th October 2009. This day marked a milestone towards fighting against climate change as people from all over the world united with a common goal to be heard and try and save the planet. (http://www.350.org/)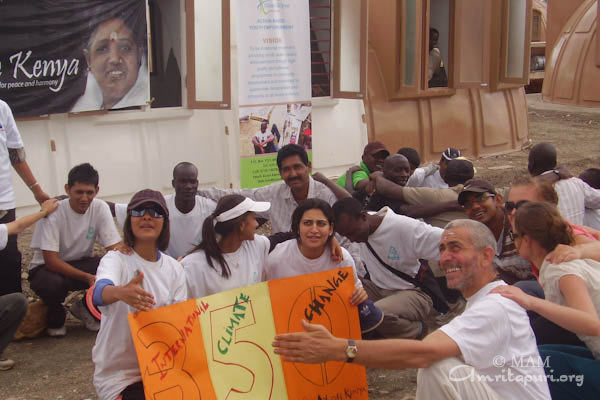 AYUDH's contribution was through organizing a tree planting event at the Amrita Watoto Boma (Children's home) located by the Athi River in Nairobi. A total of 50 youth took part in the event and managed digging the ground and planting 500 trees during the course of the day. There were also 3 campaigners for the 350 movement from Denmark present for the event.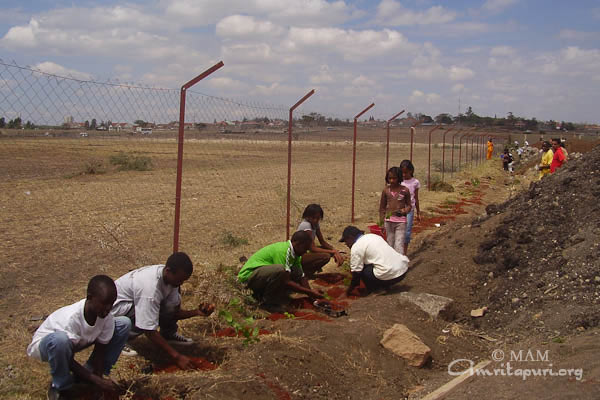 The day started with a short talk by Br. Shantamrita on how man depends on Mother Nature and the need to contribute towards preserving Mother Nature.  There was a lot of enthusiasm amongst the youth who managed to finish planting 500 trees in the morning alone. This was the target intended for the entire day. There were a lot of innovative methods of teamwork on display as well, particularly whilst watering the trees. Only one water tank was available, which was pretty far away and all the participants formed a chain to transport the water to the trees.
After lunch and a small singing session, the youth gathered for the final activity, which was to create a small garden next to one of the children's dorms. This was the most challenging activity of the day and it concluded at 3:30 pm.
The event ended on a very positive note with each person adopting at least one tree, showing their commitment towards ensuring that they would come back for another event and to make sure that the trees planted would also grow healthy. A round of ultimate Frisbee concluded the day. It was a fun-filled event for all who took part.
As the children's center is nearing completion and the kids are about to move into their new home, AYUDH dedicated this day to create a more welcoming and beautiful surrounding for the children and at the same time contributed to the protection of Mother Nature.