18-19 March, Hyderabad – BharataYatra 2016
After her programs in Bengaluru, Amma traveled east and held a two day Brahmasthanam festival in the scorching heat (topping 40-46 degrees daily) of Hyderabad, where she gave satsang, sang bhajans, led manasa puja and meditation instructing everyone in the local Telugu language.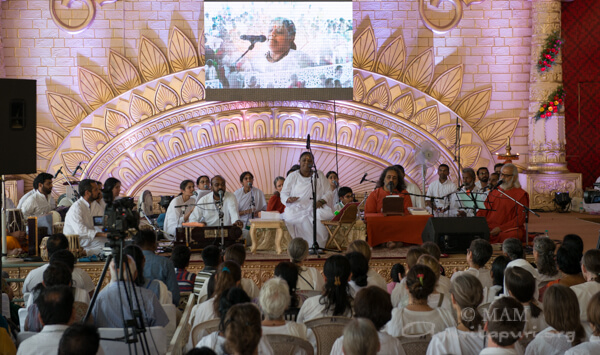 Addressing the gathering, Amma said, "Let our lives become an offering that alleviates the pain of the suffering people. To be compassionate towards the poor, one does not need a lot of wealth or a very high position in society. A kind word, a compassionate glance, a small favor all these can bring light into their lives and into ours as well. It is not what we received, but what we were able to give, that determines the value of our life. If we have been able to bring happiness to a soul even for a minute, it is a great achievement in itself."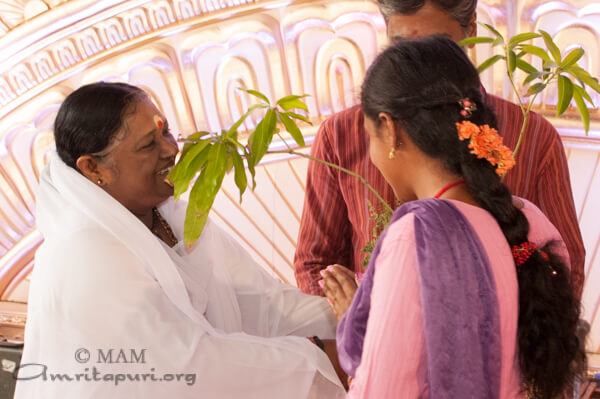 During the function, Amma distributed more than 200 saplings to the devotees encouraging them to plant more trees, restoring the harmony of nature. She kissed each sapling before she handed it over to each devotee causing them to beam with joy as they received it.
A senior women police officer who came to meet Amma asked a question, "All day I am meeting people who are creating troubles in the society. So after some time its difficult to be centered. Since the field is mostly dominated by masculine energy I find it difficult to maintain my feminine qualities." Amma responded, "Daughter, you have been entrusted with the duty of maintaining the garden. It's true a gardner will not be enjoying the beauty of garden but more focused on worms and insects that may destroy the beauty of garden. She has to remove them then, and only then will the plants be healthy, bloom and bear fruits. Amma understands in most of the cases the officials are put in a frame, and not able to work freely, and sometimes are not able to act according to dharma because of the pressure from the top… Daughter, understand your roles – when you are in the office, be an officer, in the home be a mother, a wife etc. Learn to shift your roles according to the situation."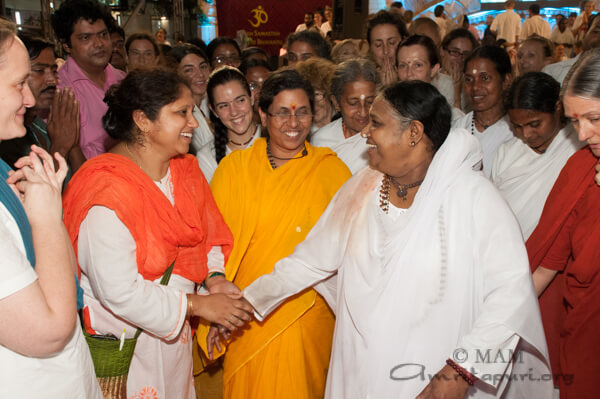 During darshan the crowd was delighted by several impressive cultural performances including one from the Yadava community who presented an Oggu Dolu dance, which they usually present only in temples. Additionally the local children of the Amrita Vidyalayam presented several different programs.
On the second and final day, Amma finished darshan at 3.20 am and sang two joyous bhajans before finally leaving the stage. A few hours later, Amma and the group were on the road again…this time to Pune for the next stop on tour and to celebrate Holi.
– Kannadi