October 10, 2005 — Munich, Germany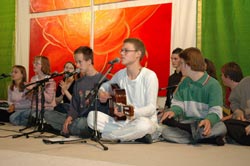 For the past two years, Nath Hirsch has worked with mentally challenged children at a School in Munich. Some time back, he spent a month teaching the children about the cultures of Asia, including India's. As part of those classes, he decided to teach them a few bhajans: simple repetitions of "Om Namah Shivaya," "Amma Amma Taye" and "Om Lokah Samastah Sukhino Bhavantu."
Today, he brought these children–with his guitar in hand–to Amma's program in Munich so that they could sing for Amma and have her darshan. The children were so excited–both to sing and to meet Amma. Everyone in the hall was moved by the innocence and joy they exuded as they sang.
"Many of the children have Down's Syndrome, but others have less definable mental problems," says Nath, who is 21 and first met Amma in 1988 when he was only four. "One of the boys has both Down's and Autism. It is a very rare case. He can get so agitated—nothing will calm him down. But he when we started singing 'Om Lokah Samastah Sukhino Bhavanthu,' [which means "May all the beings in all the worlds be happy"] he really responded very well. The mantra became kind of like a remedy for the children whenever they would get real agitated. At the school, sometimes we would sing it for 20 minutes continuously. One time, after we'd been singing it for a long time and I finally stopped strumming the guitar, this boy reached out to my hand, moving it, as if to keep it strumming the strings. He didn't want the song to end."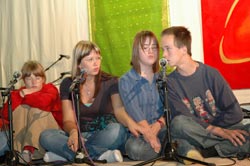 Nath says that he was inspired to help these mentally handicapped children through the example of Amma's life and her teachings of selfless service, which he has been imbibing his entire life. Nath also participates in the selfless-service activities of Amma's youth group in Munich. Most recently, the youth group has been selling tea and waffles each month on the streets of Munich to raise money for Amma's tsunami relief-and-rehabilitation project.
When Nath took the mentally handicapped children for Amma's darshan, Amma embraced them tightly and gave each an apple for prasad. She also told them how much she liked their singing, often showing her approval with a big thumb's up.
As for Nath himself, he could not control his tears. Watching him on Amma's shoulder, surrounded by those innocent and simple children, he softly wept.
Amma's lamp of Love continues to spread.
-Kannadi