Bharata Yatra 2004
Thursday, 12 February 2004 — Kannur Public Programme
At four in the afternoon, hundreds of devotees and schoolchildren of Kannur Amrita Vidyalayam started lining up for a colorful procession that would go right through the center of Kannur and then on to the sports stadium where Amma's program was being held.
The procession was headed by a jeep done up to look like a pair of swans, the divine vehicle of Saraswati, the Goddess of Learning. The winged symbols of discrimination formed a peetham for Amma's portrait. The drums and trumpets of panchavadyam , Kerala's traditional temple music, opened the procession with enrolling rhythms and sounds. Behind them were two brahmacharis carrying Amma's picture, followed by more brahmacharis in yellow.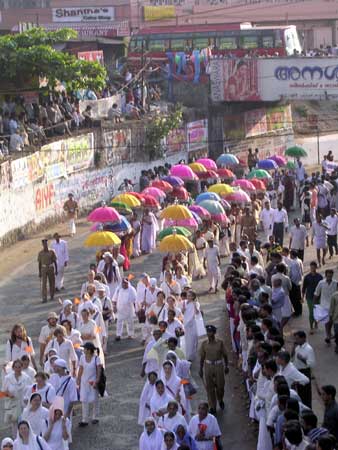 After the Westerners, there was an Amrita Vidyalayam marching band with drums and trumpets. Next followed a little Radha and Krishna, as well as a flock of gopis and cowheards—dozens of children dressed in white and carrying wooden sticks.
Hundreds of devotees carrying beautifully decorated muthukudas  [processional umbrellas] in all colors of the rainbow chanted "Aum Amriteshvaryai Namah" as they walked passed the citizens of Kannur. Yet more Kerala temple music came from a thayambaaka , ensemble, who was leading the hundreds of devotees who had come to join the parade.
The procession ended in Kannur's sports stadium, which had been decorated with huge photos of Amma. The thousands of devotees awaiting Amma's arrival in the stadium were obviously thrilled by the site there enjoyed the sight.
It wasn't much longer that Amma arrived. By then the stadium held nearly 40,000 people. The president of the local organizing committee welcomed Amma and referred to Her growing international recognition by saying, "Amma is Indian, but Amma belongs to the world."
Among the distinguished guests were Father Erathara, former Kerala State BJP President C.K. Patmanabhan, president of Leela Hotels Capt. Krishna Nair and P.P. Lakshmana, former President of the Indian Football Association and member of FIFA ( Federation International Football Association).
Even though Amma started darshan at 9:30 after a more than two-hour program of satsang and bhajans, it was not until nine in the morning that She blessed the last Kannur devotee by taking him into Her arms.
Overall a grand start to Amma's 2004 North India Tour.
—Devadath