20 September 2006 — Amritapuri
Amma's 53rd birthday will be celebrated at the Amritapuri Ashram on September 27th. All of Amma's children from around the world are of course invited to come. In fact, 30 to 40 thousands people—from all over India and abroad—are expected to make the pilgrimage.
For Amma, the day holds no special significance. She will spend it like she does any other day—expanding the range of her charitable mission and holding and consoling one and all who come to her.
The schedule for the celebrations is as follows: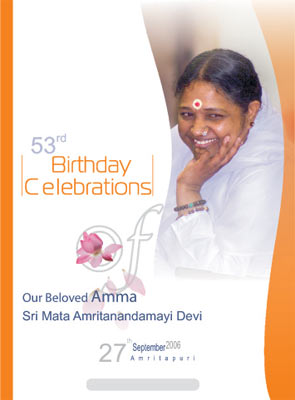 Night of September 26th 2006
Cultural Programs by Eminent Artists & Students of Amrita Educational Institutions
September 27th 2006
Amma's Padapuja
Amma's Birthday Address
Distribution of Keys to Tsunami-Relief Housing (4th phase)
Inauguration of Amrita SREE—Program for Uplifting Unemployed Youth
Awarding of Amrita Keerti Puraskar
Free Marriage Ceremony for Impoverished Couples
Distribution of Free Clothing to the Poor
Amma's Darshan