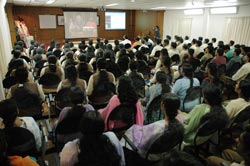 8 December 2005 — Amritapuri
"Today is an important day in the annals of Indo-US academic cooperation," said President Kalam over the EduSat satellite. His Excellency was addressing students and professors participating in a newly formed Indo-US e-Learning project wherein lectures given by top U.S. professors visiting Amrita University will be broadcast via an ISRO satellite to approximately 300 universities across India.

The president continued: "Indian and American Universities have decided to work together using EduSat connectivity to create a new wave of synergy amongst our educational institutions. It is indeed a renewal programme of longstanding scientific cooperation between our two countries. It has to be a win-win situation for both our nations. This cooperation, indeed, should result in the Virtual University system…. I am sure this meeting of academic minds from both our countries will further enhance the excellence in the research-teaching-research cycle leading to societal transformation."
President Kalam was speaking from Rashtrapati Bhavan in Delhi to five locations across India: the Amrita University campuses in Amritapuri and Coimbatore, IIT in Chennai, Symbiosis Institute of Computer Engineering in Pune, and NIT in Surat. Students and professors from 11 Indian universities attended the broadcast. The 15 professors from U.S. universities who had signed the programme's MOU in Delhi (news) the day before, participated in the broadcast from Amrita University's Coimbatore campus.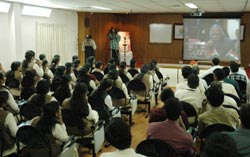 In his address, the president discussed what is needed to transform today's society into what he calls a "knowledge society." He said, "The networking of universities and institutions through EduSat is the first step towards creating universities capable of meeting the demands of the knowledge era–an era born out of the convergence of technologies."

The potential of this newly formed "Virtual University" was soon demonstrated when President Kalam began fielding questions from students from all five broadcast locations. Questions ranged from how technology can be used to eradicate poverty and unemployment, to the role of education in preventing the complete loss of moral and ethical values alongside development and technological progress, to the president's India Vision 20/20.
Each of the representatives from the 15 U.S. universities also addressed the gathering, expressing their enthusiasm in becoming a part of the groundbreaking collaboration. Dr. Vijay Kumar Garg, an ECE professor from the University of Texas — Austin, stated that there are many brilliant students from India attending his university and that now UT is happy to be able to give something back to India. Dr. Anderson Smith, Vice Provost for Undergraduate Studies & Academic Affairs at Georgia Tech, said that the project fits perfectly with his university's goal of becoming a true global university.
In closing, President Kalam gave his blessings: "I inaugurate the Indo-US Universities EduSat Network and wish the participants success in their mission of working in the cyberspace and advanced technologies for producing a visible growth in our economy in the real world. I wish you all success in your mission of promoting excellence in education and capacity building among students and finally evolving the creation of the knowledge society for the nation."
-Amrita News