20 December 2005 — Samanthampettai, Nagore, Nagapattinam District, Tamil Nadu
"When difficult circumstances arise in life, there are two ways to respond. We can either run away in fear or kindle the love within and try to overcome," Amma said. She was talking to the 60,000 people or so who'd come to have her darshan in Samanthampettai, a small village in Tamil Nadu's Nagapattinam District. Considering the crowd it was a pretty heavy statement. A year ago when the tsunami hit India, Nagapattinam became an international household name—8,000 dead.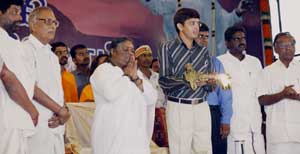 Tonight's programme was the first that Amma has ever given in the district, but her second visit. In February, just six weeks after the tsunami, Amma came to Samanthampettai and walked door-to-door through a relief-camp set up by the Ashram. She personally dried the eyes of hundreds that day, listening to family after family tell her who'd died and how.
Tonight, the Ashram officially handed over certificates to the 375 homes it has completed in Nagapattinam thus far: 340 in Samanthampettai, 25 in Akkaraipettai and 10 in Pandagasali.
Dr. J. Radhakrishnan, the district collector, gave a short speech in which he called the work of Amma's Ashram "remarkable" and said that Amma's Ashram was "the first organization to finish an entire community in-full." In fact, some 45 NGOs [non-governmental agencies] are currently working to complete tsunami-relief houses in Tamil Nadu. So far, all of them put together have completed about 1000 homes; 50 percent of these have been built by Amma's Ashram. The 375 houses built in Nagapattinam took only 180 days to complete—more than two houses per day.
Among those to receive the certificate of ownership to his house during Amma's programme was Vijayan, a fishermen who, along with his home, lost his grandmother in the tsunami. After having Amma's darshan he said, "If Amma had not been beside us, we would have been left totally aimless, with no aspiration to live. In fact, for three months we did not go out into the sea. But during that time, Amma gave us everything: food, shelter, education, medical care, even clothing and soap."
Rajeswari, Vijayan's sister, has been attending classes offered by the Ashram for tsunami-affected youth. She says that the classes have inspired her and many other girls in the village to complete their basic education and that it is becoming quite common to hear girls speak of pursuing higher studies—something that previously was not given too much importance.
Run away in fear or kindle the love within and overcome Amma has provided the options, but she has also led the way to the only true choice. For, by coming into their midst and wiping their tears with the end of her sari, Amma, in fact, has already begun breathing life into the very love she is extolling them to kindle. As one devotee attending the Samanthampettai programme remarked, "Amma is not just rebuilding their houses; she is rebuilding their faith in life itself."
—Tulasi