It was supposed to be the monsoon. But it seemed more like the deluge. Four days of continuous rains that began on July 26th, 2005, flooded the state of Maharashtra. Mumbai, its capital city, was most badly affected.
94.4 cm of rain fell in Mumbai on a single day, the highest rainfall recorded not only in Indian history, but in the world too.
Millions were affected. Floods and landslides washed away countless homes. At least a thousand people drowned. Tens of thousands were stranded in their offices for three days. Floods not only submerged many areas in the state, they also paralyzed all land transportation, cutting off supplies of food, water and medical aid.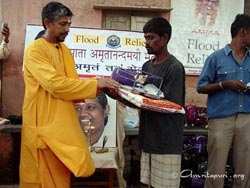 In Panvel, many small villages were submerged in eight to 10 feet of water, destroying most of the hutments here. The Math distributed essentials such as mats, bed sheets, stoves and kitchen utensils, rice and groceries were distributed to the tribal folks at Khidkupada, Panvel.
The Mumbai branch of the M.A. Math swung into action, carrying out relief activities in Panvel, the worst-hit area in Navi Mumbai, as well as other areas of Mumbai like Borivili, Badlapur, Dahisar and Goregaon.
Ashram volunteers also distributed cooked food prepared at the M.A. Math to the hundreds of refugees staying in two makeshift shelters at Ambedkar Nagar and Shirovane.