11-12 October 2003, Helsinki, Finland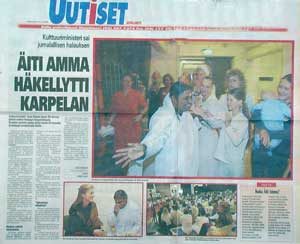 Amma's visit to Helsinki, Finland, was the talk of the whole country, as thousands gathered for Her darshan at the Cable Hall. It was Amma's fifth visit to this beautiful Scandinavian country.
On the morning of the first day's program, the Bishop of the Orthodox Church in Helsinki, Rev. Ambrosius, met Amma and got Her darshan. Rev. Ambrosius told Amma that he had visited the Orthodox Church in Kerala 10 years ago. He was happy to see how Amma received each and every person who came to Her with the same love and compassion; he was also pleased by the hug that Amma gave him.
The Cabinet Minister of Cultural Affairs in Finland, Ms. Tanja Karpela, also came to meet Amma during the first evening program. She was full of bliss after Amma's darshan, and was very impressed by the charitable activities that the ashram was carrying out worldwide.
Amma's visit to Finland was reported on the Finnish TV's main news and in the national newspapers, Helsingin Sanomat and Iltalehti, which have very wide circulation in this country.
During Amma's visit, the translation of Judith Cornell's biography of Amma into Finnish was also released.
The evening darshan during the second day went on until 5:00 am the next day. That afternoon, as Amma was entering the airport to board the plane for Barcelona, She was received by an airport officer who had a pen with Amma's photo in his pocket. When asked, he said that he had really wanted to see Amma, but because of his official duties, he couldn't make it for the programs. His friend had given the pen as a souvenir and he cherished the gift. His face was beaming with a smile as he received Amma's hug.
As Amma entered the aircraft, many of the passengers were reading the newspapers carrying big reports of Amma's programs. Seeing Amma, some of the passengers exclaimed, "This is the same woman."