October 9, 2004 – Switzerland
At last, the day of Amma's arrival on the continent! A group of devotees gathered at the Kloten Airport near Frauenfeld on October 5th to welcome Amma. She appeared in Her white sari, with a beaming smile, giving darshan and distributing sweets to her children.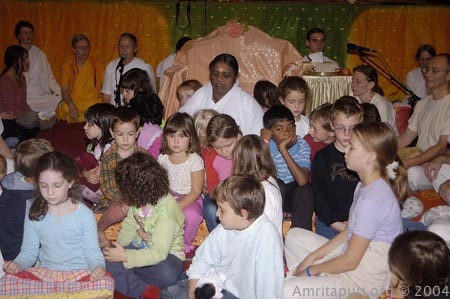 The programs in Switzerland always have a calm and relaxed atmosphere.
To the delight of Her German-speaking children, Amma sang "Srishtiyum Neeye" in German and then sang an English bhajan next. Some commented that seeing so many smiling faces in one place was a rare sight.
A German bhajan group, with keyboard, flute and bass guitar, gave a lively performance with bhajans they had translated into German. Devi Bhava finished at seven a.m. with a beautiful rose-petal shower by our Divine Mother, who stood with a beaming smile in a blue sari.
—Parimala