14 July 2003, Chicago-Area Cities Award Amma
After a full weekend of Amma's programs in the Chicago area, the working Monday morning still found devotees making their way into Amma's soothing presence, yearning for more time in the peaceful vicinity of this Spiritual Master in the form of a loving Mother. On this day, the crowded hall was graced by the visit of two esteemed dignitaries – the mayor of the host city of Naperville, as well as the mayor of the neighboring city of Lisle.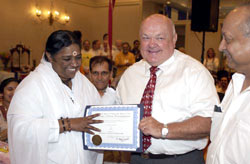 The Mayor of Naperville, A. George Pradle, welcomed Amma to his city and, as a token of his appreciation for Amma and Her selfless work in the area, he conferred on Amma the title of Honorary Citizen of Naperville. Presenting Amma with the certificate, he said in an open gesture of welcome, "We would like Amma to realize that we (the people of Naperville) have a great love for people from other countries. It is a privilege for us to have people from other homelands visiting our place." Then pointing to his tie, in a touch of humor he said, "See, I even wore a special tie for this occasion that came from India!"
"I have been looking forward to coming here all weekend, because I love hugging. Thank you all for coming to our city. Thank you for caring about other people!"
Praising Amma's charitable work which includes feeding the homeless on the streets of Chicago through the "Amma's Kitchen" program, he confessed to a personal reason for his visit, "I've been looking forward all weekend to coming here," he said with a broad smile, "because I'm a big hugger too and I am looking forward to this hug. I'd like to have the world record for hugs, but so far, Amma has beat me to it!"
As the Mayor went up to Amma for his hug, Amma hugged him in a long, sweet darshan. He then presented the official certificate of Honorary Citizenship to Amma. Afterwards, he turned to Amma and asked innocently, "Can I have another hug?" Amma laughed and happily embraced him a second time. Wiping his tears, Mayor Pradel said, "We love you, Amma. We love you."
A little later, Mayor Joseph Broda from the neighboring city of Lisle, which has had the honor of hosting Amma in previous years, came forward to extend his welcome. "I just wanted to offer my greetings to Amma," he said, "Welcome, Amma, to the Naperville-Lisle area. I would like to present Amma with the keys to the Village of Lisle. I wish Amma the best in the future towards helping the poor." Mayor Broda then presented Amma with the Key to the Village of Lisle, and Amma held him warmly in a loving darshan.
As Mayor Pradle of Naperville exited the hall, he was heard to remark, "Yes, She is a Spiritual Master, a Realized Being. I could feel that from the sense of peace and light that surrounds Her, and from the joy reflected in the faces around Her."
The honor and welcome that Amma receives from the cities that She blesses with Her presence is recognition of Amma's globe-spanning labor of love and selfless service. This official appreciation coming from the higher circles of government is an acknowledgment of Amma's love and compassion reaching even the most destitute in society. With the example of Her life, Amma inspires every person that She comes into contact with to do more for the world around them, thus extending Her arms to reach and hold more of Her children in Her loving embrace.