27 Sep 2015 Amritapuri – Amritavarsham 62, Amma's Birthday Celebrations
During the past 20 years, the Amrita Institute of Medical Science in Kochi and the other healthcare institutions of the Mata Amritanandamayi Math have provided 100 percent free care to more than 30 lakh [three million] patients at a value of more than Rs. 400 crore [60 million US dollars].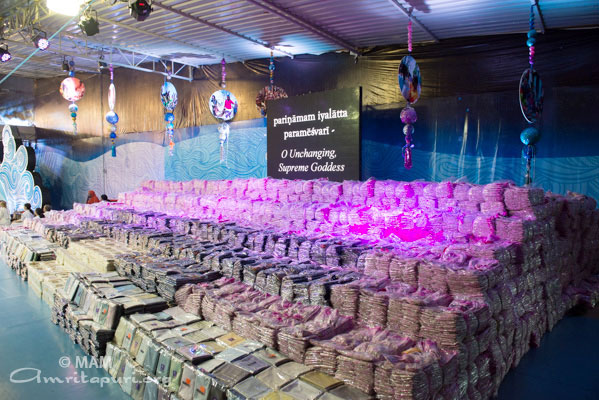 Amrita Hospital presented another 375 beneficiaries with certificates for totally free surgeries: 200 totally free heart surgeries, 150 totally free brain surgeries and 25 totally free kidney transplants. Certificates for these surgeries were given by: S. Gurumoorthy, renowned economist and writer, Jagadambika Pal, MP, Uttara Pradesh, Richard Hay, MP Thalassery, Kerala, and Nalin Kumar Kateel, MP Karnataka
O. Raja Gopal, former Central Minister, gave certificates for 13 new boats to their owners whos boats were tragically destroyed.
Checks worth one lakhs each were given out to the wifes of fishermen who lost their husbands at sea.
On the occasion 400,000 saris to the poor women were also distributed. First 50 saris given out by Amma.