28 September 2015, New York City
Ms. Evie Evangelou founder of Fashion 4 Development (F4D) awarded Sri Mata Amritanandamayi Devi (Amma) the "Medal of Honour" for more than 25 years of humanitarian work in the fields of human rights, health and well-being, including food, access to water and power, housing, medical care, and the right to education and skill-training.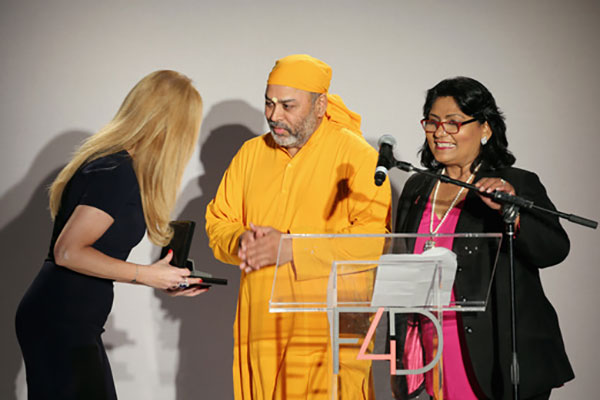 Fashion 4 Development (F4D), an awareness and activist organization, hosted their Annual First Ladies Luncheon on Monday, September 28, in New York City. Held in conjunction with the United Nations General Assembly to encourage positive social change, the event recognized individuals for their humanitarian efforts.
The mission of F4D is to promote positive social change by implementing strategies for sustainable economic growth for communities worldwide. F4D identified the fashion industry as the "glue" to bring together VIPs and global influencers from every sector to collectively address a number of human rights issues worldwide.
Along with Amma, Naomi Campbell and other Fashion Industry Stalwarts also received various awards on this occasion.