8 February 2003, Mananthavady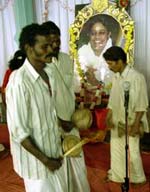 The first stop of Amma's 2003 North Indian Tour was in Mananthavady, deep in the rolling tropical hills of Northern Kerala. The ashram itself is perched atop one such hill, with a view opening out into a forested valley, dotted with the lights of homes nestled among the trees. The area is home to the Adivasis, or tribal people of Kerala. In addition to the Amrita Vidyalayam at the Mananthavady ashram, M.A. Math is in the process of establishing 10 schools specifically geared towards these tribal children.
Even though the Adivasis haven't studied any scriptures or previously learned anything about spirituality, they have tremendous faith in Amma and love for Her. After meeting Amma, whole villages have been transformed, giving up alcohol, improving hygienic standards, resolving differences peacefully. In many cases, these transformations happened quite literally overnight.
About the Adivasis, Amma issued a public statement in October 2001, quoted in The New Indian Express. In part, She said, " 'Adivasi' means the people who have inhabited the land since time immemorial… The Adivasis have a lot of things to remind the present day person who runs after modernism. Haven't our minds, trapped in modernism, lost the sanctity of the ancient? Though uneducated, the 'Adivasi makkal' are rich in simplicity of mind and heart. Is this not a great blessing?"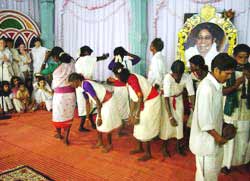 She also said, "We have lost and are losing many things which we will not be able to retrieve. In this situation, is it not our duty to protect the Adivasis who depend upon land and nature for survival?"
At the 2003 Mananthavady programmes, the Adivasis showed their love and appreciation for Amma by performing traditional tribal dances on the stage while Amma was giving darshan. As they danced with the grace and dignity of the ancient and obvious devotion for Amma, She turned to watch. The dance was also broadcast on TVs situated throughout the ashram, so that all the devotees present could enjoy it. As they prostrated before Amma upon the conclusion of their dance, Amma led the applause which echoed throughout the hall.
Witnessed and appreciated by both the Keralans of modern day and the "Western" devotees—who, in their diverse citizenships ranging from Japanese to French, from Russian to Canadian, could be said to represent the whole world—not to mention the Divine Mother Herself, one can be sure that, at least for now, the Adivasis have not been forgotten.