2 January 2003, Thiruvananthapuram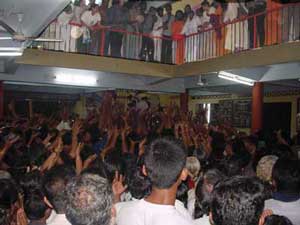 Amma arrived in Thiruvananthapuram (Trivandrum) this evening. Panchavadyam (traditional festival music of Kerala using drums, cymbals and horns) musicians loudly trumpeted the arrival of the Goddess, while fireworks boomed overhead. Meanwhile the real fireworks were going on below as Amma made Her way through teeming throngs of devotees who have been eagerly awaiting Her arrival, even as many of them worked day and night to prepare Her way.
The devotees present must have been hoping for just a glimpse of Amma. But it seems She could not resist greeting Her children personally, as She had only just passed through the crowd to the temple balcony before calling them up for darshan. Finally, over an hour after reaching the ashram, She retired to Her room.
On Her way She cast loving looks at Her children below, who themselves could not resist remaining in the temple even after receiving darshan, could not resist one more glimpse of their beloved Amma.
Today marks the beginning of Amma's South India tour.