1 June 2002, Seattle
Mother enters the States in Seattle, holds a day of public programs and a three-day retreat, and the "US Summer Tour" is begun.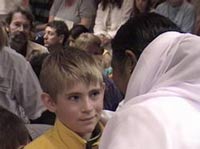 When She reaches the venue for the first morning program, as will be the case for every morning program for the next month and a half, there is a pada puja, She sits for meditation, and then She sits for darshan.
Darshan for ALL kinds, as always, everywhere: first, some small children, usually the quickest to reach that welcoming Lap.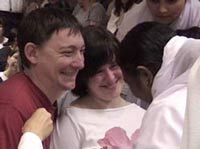 Families, couples, friends, singles… all kinds come to Mother. Most you might call "anonymous." To look at them, you wouldn't know their stories: that this one has cancer, that that one is celebrating her son's graduation, that those two are expecting a third by Christmas, that this other child is hoping for a puppy. You would know only that they have come to the Mother who welcomes all kinds, for any reason or none at all.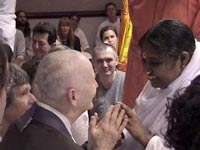 All kinds. Some more readily distinguishable than others:
there is the woman in a grey robe, her head shaven, Eido Frances Carnay, the head of the Buddhist community at the Olympia Zen Center. She has brought some of her students to meet Amma. The Zen teacher clasps her hands in front of her and bows slightly. Mother looks softly pleased as She holds the nun firmly by her shoulders and gazes into her eyes, and then envelopes her hands in Her own for a moment.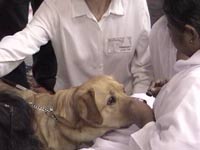 Here's another candidate for darshan; all nearby watch as he moves softly, purposefully, till he is close enough to Mother's outstretched Hand to sniff it, and then turn a soulful gaze up towards Her laughing eyes: will She give him what he longs for? Indeed, She will, then and there: She unwraps a Hershey's Kiss and holds it out to him. In one quick snap he's taken it into his mouth and stepped back out of the way so that his blind companion can move to Mother's lap.
After her darshan, he is ready to lead her away, but Mother calls him back for another Kiss. That business accomplished, tail wagging, he leads his friend to the side.
The morning darshan program continues, and there comes to Mother's lap a living gift: She caresses it, sniffs it, presses it to Her heart, and only then hands these blooming flowers, complete in their pot of earth, to someone nearby who will have to see to it that someone gives it a home in Mother Earth.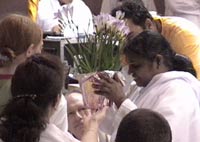 We remember a few years ago when someone gave Mother a tiny living Christmas tree in its own pot. The ashramite who carried it on the long flight home to India became so attached to it that when customs officials in one country tried to confiscate it she burst into tears and was allowed to keep it!
In the States, as everywhere, Amma receives all kinds in only one way: Her way of Love. All people, all animals, all plants – all beings are loved by their Mother.
And so, with quiet eyes, an open heart and a ready embrace, Mother began blessing America at the end of May.