Bharata Yatra 2004
28 March 2004 — Kolkata, West Bengal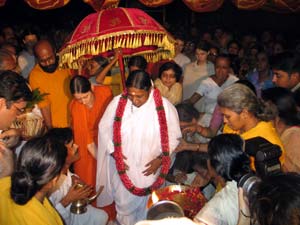 When the brahmacharis finished unloading the buses and lorry holding all the sound-system and bookstall items this afternoon, there was a feeling of something coming to a close. It was the last unloading of the tour. Amma's program in Kolkata tonight is the last of Bharata Yatra 2004.
Since 7 January, Amma and Her children have travelled throughout India—from cities in Kerala to Tamil Nadu to Karnataka, Andhra Pradesh, Maharashtra, Gujarat, Madhya Pradesh, Rajasthan, Uttar Pradesh and West Bengal. It's been more than 8,500 kilometres and 300 hours on the bus, and—for Amma—more than 700,000 hugs.
But if this was somewhat of a grand finale for Amma's children, it seemed to have no such impact on Amma, who went about giving Her program as always—full of laughter, energy and enthusiasm. Amma was welcomed by a number of dignitaries when She stepped onto the dais. Shri. Ashok Kumar Ganguly, the Honourable Justice of the Kolkata High Court, was there to give an address and to officially release a Bengali version of Jyotirgamaya Volume One, a collection of Amma's teachings published by the Mata Amritanandamayi Math.
Shri. Ranjendra Kumar, IAS, Principle Secretary, Government of West Bengal, also spoke and released a Bengali version of Awaken Children! Volume Five .
Justice Ganguly said that for him meeting Amma has been "a lifetime achievement," and that how any one who works for Amma's charitable projects "is blessed in all respects."
During Amma's satsang, bhajans and darshan, Amma was the same Amma as on the first day of the tour back in Trivandrum—cracking jokes, wiping away tears and talking to the brahmacharis around Her about the many charitable projects She is planning or already has underway in West Bengal.
The program, which was held at Kolkata's Eastern Railway Colony, continued on to the early morning.
Tomorrow, most of Amma's children will board the buses for the long five-day ride back to Kerala. But Amma will fly on to Australia, Malaysia and Singapore to meet Her children there—for Her, the yatra never really ends.
—Sakshi