Bharata Yatra 2004
23 March 2004 — Varanasi, Uttar Pradesh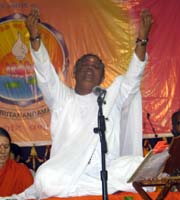 "Hara Hara Mahadeva! Hara Hara Mahadeva!" As Amma sang bhajans in Shiva's city, this is how the thousands of assembled devotees responded. Varanasi, or Kashi, is considered by many to be India's holiest city. It is said if you breathe your last here, Lord Shiva himself will come to initiate you in the taraka mantra, enabling you to finally cross the sea of transmigration. Shiva's consort, Ganga Devi, courses through this ancient pilgrimage centre, washing away the sins of all who take a dip in Her, and Shiva has been worshipped for thousands of years in the city's Viswanath temple.
"Ganga Devi is like Amma," says one of Amma's senior disciples. "She takes the dirt of all who come to Her and washes it away, leaving them pure and clean. All you need to do is take a dip. The only difference is you must come to the Ganga. Amma flows to you."
This is actually the second time Amma has come to Varanasi. The first was in 1989. Then, Amma's feet blessed the city's legendary temple. The holy rivers, the holy temples, the holy cities—in truth, it is the Mahatmas who sanctify them. Thus it is said in the Narada Bhakti Sutras. This is why Kashi holds such a power, such an allure. Countless are the Mahatmas who've walked her streets, meditated in her burning ghats, bathed in her waters.
Shri. Shankarprasad Jaiswal, MP, was on the dais to welcome Amma to Kashi. After garlanding Her, he said, "More than 1,000 years ago, Adi Shankaracharya came from Kerala to bless Kashi as the embodiment of knowledge. Now, another Avatar has come from Kerala to bless this land as the embodiment of love."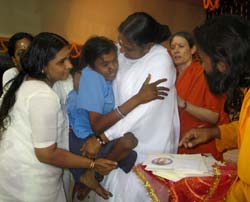 At the beginning of Amma's one-night stay in Varanasi, She gave away pensions and houses to the city's destitute, as part of the Mata Amritanandamayi Math's Amrita Nidhi and Amrita Kuteeram programs. Three of the women who received free homes were unable to walk and had to be lifted to Amma's arms to receive Her darshan. Amma's program was held on the grounds of Kashi's Town Hall, right in the centre of the city.
The night was full of bhajans in praise of Mahadeva. Amma sang "Om Namah Shivaya" and "Bhola Nathare Kashi Nathare," and Amma's swamis sang songs such as "Shiva Shiva Hara Hara" and "Pannaga Bhushana."
Tomorrow Amma leaves the city of Shiva for the cities of Shakti—Durgarpur and then Kalighat (Calcutta).
—Sakshi