18th May 2005 at 10:15pm
"Darshan – The Embrace", a film on the life of Amma has been officially selected for showcasing at the prestigious 2005 Cannes Film Festival. Jan Kounen, an award winning filmmaker who was born in Netherlands and is based in France, directed the film. Manuel De La Roche of France, is the producer. The film festival now in its 58th year is taking place 11 – 22 of May 2005. Darshan – The Embrace will be screened on 18th May 2005 at 10:15pm.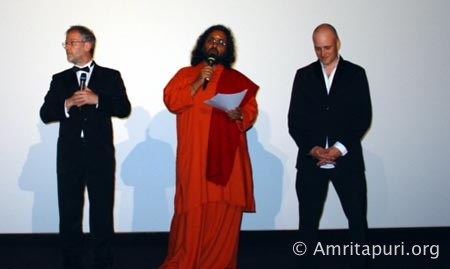 Jan Kounen and his crew began shooting the footage for the movie in 2003 during Amritavarsham50, (news) Amma's 50th Birthday celebration in Kochi. Afterwards, Kounen and his team traveled with Amma on Her Indian and International tours in order to complete the movie.
Jan Kounen has several feature films to his credit, including 2003 Blue Berry – A 'mystical western' that starred Vincent Cassel, Juliette Luweis and Micheal Madison.
"I want to present the portrait of a women, who as a young girl had a vision which made people feel she was going crazy. I want to document the journey of that girl into her present avatar as 'Amma'", Kounen said.
On what inspired the project, Kounen said: "I was restless and plagued by several dilemmas and Amma eased away all these and showed me the right path."
About the film, Kounen says, "when I first took up the project and started filming, I thought, 'Amma is a good person, doing good things, in turn I can do something good for Her'. But as it went on, I realized,  no, I am the one who is receiving the gift".
Producer Manuel met Amma in 2002 in Amma's European programme. He says that he is quite impressed by Amma's love and compassion that Amma exuded made him feel that he got to make a movie about Her life. "The goal of all Mahatmas is the same: love and compassion."  He says, "All of them have the profound knowledge of human being and to be in contact with them is uplifting. The way the pay attention to the people, ease their sufferings and remove their tensions. Today, they are sought out more than ever before. They protect values that are threatening to disappear."
The organisers and producers had extended an official invitation and were very keen that Amma will honour them by being present as the Guest of Honour during the festival and screening of the movie. Amma has conveyed Her best wishes and blessings for the function and will also be sending a video message which will be screened at the festival. Amma has directed her disciple Swami Amritaswarupananda to represent on Her behalf at the Cannes Film Festival. Mr. Sudhakar Jayaram, General Manager, Amrita TV, will accompany him.
The official selection of the movie on Amma's life at Cannes Film Festival is a significant not only for Amma's devotees and admirers across the world, but to all the spiritual people across the globe.