25-27 April 2002, Palakkad Brahmasthanam Festival

"My children must be suffering – both from the heat outside and the heat inside," said Amma in one of Her morning satsangs in Palakkad. During the three-day Brahmasthanam Festival there (April 25-27), the temperature was consistently reaching 43 degrees Celsius – the earth was scorched, the lakes were dry, there rarely was any wind.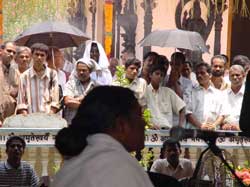 Located in the middle of Kerala's eastern border, Palakkad is the state's hottest district – a condition intensified in the pre-monsoon season. Still in that harsh climate, the local volunteers and Amma's tour group worked continuously – chopping vegetables, cooking meals, manning the bookstalls. How could they do otherwise, with Amma in their midst embracing an average of 14,000 people a day.
"It's so hot," said Shakti, an 11-year-old boy from Palakkad who lives with Amma in Amritapuri. "Even under the fan, you don't get any relief."
"Amma did Kerala tours this time of year some years back," said Henry, a renunciate from Holland. "We used to call it the Hell Tour."
However, John, a brahmachari who works in the kitchen boiling rice, said the heat isn't really a problem. "It doesn't bother us," he said. "You feel the 'heat of the heat.' It makes us feel like we are doing something. It's inspiring."
Indeed, the temperature must have made many aware of the nature of their work – karma yoga, the burning away of karmas through selfless actions. It is through selfless actions such as the work done in that unrelenting Palakkad heat, that the devotees can cool the inner heat that Amma spoke of in Her satsang – the heat of the restless, troubled, worried mind.
And there were moments of respite – somewhere around 4:00 in the morning, when Amma often would be finishing darshan. With the sun a few hours from rising, a slight breeze would push across the ashram compound and caress those just finishing their day's work. Perhaps this was Nature's sympathetic imitation of the drama of life, the reward awaiting those who work selflessly through the high heat of the day.