12 April 2005 – en route to Amritapuri from Trissur
Amma finished giving darshan around 6:00 in the morning, thereby concluding Her first ever Brahmasthanam Festival in Trissur.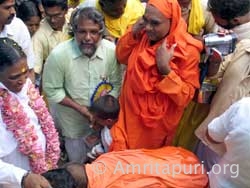 On Her way back to Amritapuri, Amma made several stops at places She was invited to during the festival. In Trissur itself, Amma visited the Brahmasvam Matham, a math where Vedic chanting is taught to Brahmins. In Ollur, Amma got down to inaugurate a Vidya Rathanam ayurvedic museum. And in Chalakkudi, Amma lit the lamp at the foundation-stone-laying ceremony for a Narayana Guru Chaitanya Matham meditation centre. At all the stops, Amma gave darshan to the devotees there, including some 1,000 people at the Vidya Rathanam museum.
Photo: The Swami of the Narayana Guru Chaitanya Peetham offering padapuja to Amma when she visited the peetham.
—Kannadi