Amma's 60th Birthday 'Amritavarsham 60' is a multi faceted celebration. Amma dedicates- as every year -this day to Her life mission of serving humanity, and in ways more than one.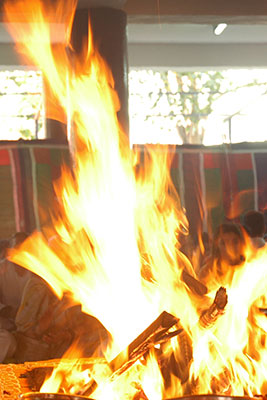 This year, at the outset, Amma has directed all of Her children's technical resources to the uplift of Indian villages. At the same time several age old spiritual and religious practices also adorn the celebration. The foremost being a grand observation of Sata Chandika Mahayaga, as a precursor to the birthday's formal celebration.
The age old practice of fire worship, Yaga, is intrinsic to our culture. Today the world is enveloped by negative selfish vibes. Yagas and mass chanting are highly beneficial in purifying the atmosphere.
The five day Sata Chandika Mahayaga, scheduled to take place till the 25th noon, has created a stir of expectation among the local and International devotees, who look up to Sanatana Dharma and its practices for solutions to worldly problems.
The Yaga, is performed by traditionally trained students of Vedas in the Vedagurukula, in the town of Sampekatte in the Shimoga district. Their Acharya, Sri Vedabrahma Raghavendra Bhat, is the chief priest of the occasion. The 54 aspirants are going to do the holy chanting of divine Mantras. The sacred 9-lettered Devi Mantra, Devi Purana called 'Durga SaptaShati,' Lalita Sahasranama, and Vedic mantras are expected to fill the air much to everyone's joy.
Chandika Devi is beyond the Trinity, Shiva, Vishnu and Brahma. She wears this world as Her body, She nurtures it as Her offspring, and She is behind its dissolution. Veneration of Chandika Devi in Kaliyuga is regarded as highly auspicious.
This elaborate ritual includes Pujas, Homas, Arati, Prasad, offerings etc just as is prescribed in ancient texts. The rituals start at dawn and go on up to dusk. By noon on 25th the last ritual of Poornahuti marks the end of the holy beginning of the birthday celebration.