26 Sep 2013,
The vibrations at Amritapuri got enhanced by the Panchari Melam performed by Kizhakkoot Aniyan Marar aka Narayanan Marar. A jewel in the Kerala 'tala' tradition of rhythm, which has a heritage of over 1000 years, he enthralled us all here, with a high tempo, fast paced performance. Even after the late night cultural performance, the audience was eager for the program ahead.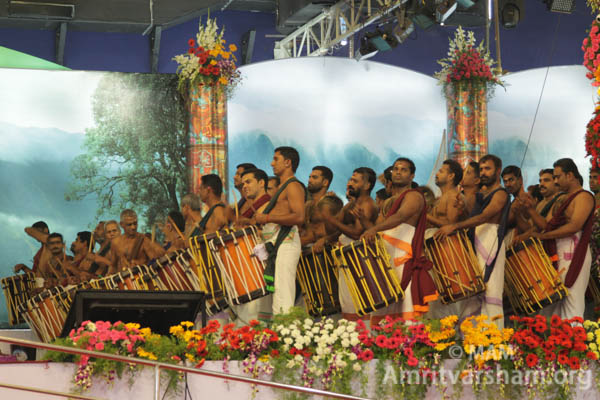 Panchari Melam is a musical ensemble performed during temple festivals in Kerala. Panchari is a six-beat taal. It is one of the major forms of chenda melam also known as drum ensemble and is the best-known and most popular temple percussion. This art is protected and preserved by artistes belonging to the 2 communities of Marar and Poduval. Kizhakkoot Aniyan Marar currently upholding his family's tradition in this traditional art form.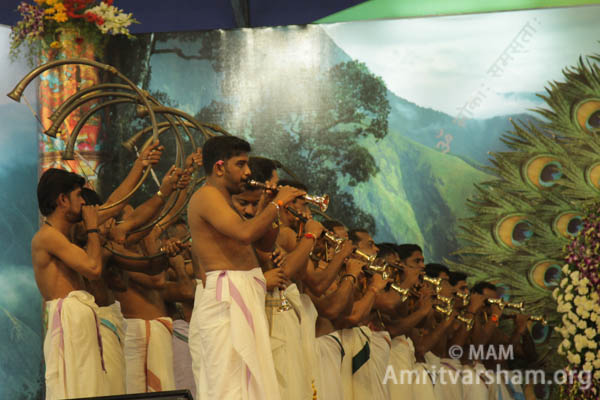 The performance today comprised of instruments like chenda which is a cylindrical instrument, ilathalam is a metallic musical instrument which resembles a miniature pair of cymbals, kombu which is a wind instrument like a long horn and kuzhal is a traditional double reed wind instrument . The atmosphere resembled that of another great festival that characterizes the spiritual and cultural heritage of Kerala — the Thrissur Pooram. But, this being Amritapuri, the spiritual energy and the enthusiasm was increased hundredfold. The final few minutes was filled with high speed beat, fervent enthusiasm, and an energetic crowd, meant that this day began with a devotion filled offering to Amma.
The vibes of these instruments is still resonating throughout the hall making it more sacred and creating a blissful environment as we near Amma's 60th birthday. Day 2 of Amritavarsham60 had a good start, thanks to the amazing panchari melam which set the tone for a highly energetic day ahead!
– Chaitanya Udyavar, Susheela S Nair