On the 26th of September, as part of Amma's 60th Birthday celebrations, an International flags procession took place.
At 5:30am, international devotees of Amma, representing all the colors of the world and wearing their respective traditional costumes, gathered near the ashram's main hall to form a colorful line, collecting the flags and country name boards. They came from all the parts of the world: From Afghanistan to Zimbabwe; Japan and Australia; Malaysia and Italy; Kenya and Lebanon; Mexico and China; the USA and Finland; Argentina and Russia; Israel and Cameroon; Saudi Arabia and Brazil…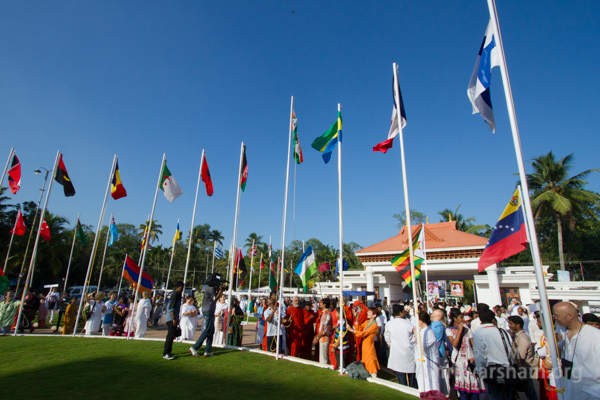 At 6:30am, the procession started, moving towards the Ashram's main entrance. People gathered to enjoy the colorful and touching sight, while the 'Lokaha Samastha' mantra was being chanted. Passing by the Kali temple, the parade headed towards the Amrita Setu bridge. After crossing the bridge, the it took a right turn towards the Vallickavu main street, then a left turn towards the Amrita University.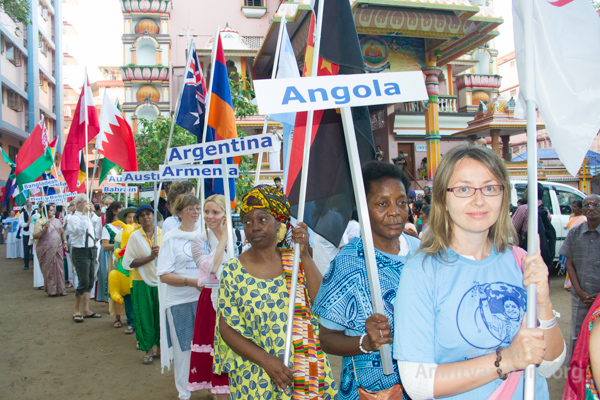 When reaching the main gate of the Bio-Tech College, the parade entered the premises, circumbulating the beautiful green circle, before proceeding towards the Engineering College.
At 7:30, the parade reached the entrance of the College and holders of flags and country names, formed a circle, decorating the place with all colors and shapes: Red, green, yellow, blue, orange, black and white… Stripes, stars, circles, triangles, signs and symbols…
At 8:05 the flags were hoisted, starting with the national flag of India, which was hoisted by the Swamis of Amma's Order. This was followed by the National Anthem of India, officially declaring the inauguration of Amma's 60th Birthday Celebrations: Amritavarsham 60!