27 September 2005 — Amritapuri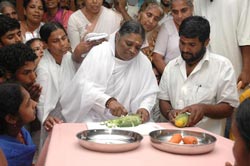 Many people stay up late the night before their birthday so they can be awake when the clock strikes midnight. Amma also got the celebration started just past the midnight hour, but of course not for her, but for her children.
Just before the clock struck 12, Amma descended from her room to pay a surprise visit to the kitchen. The kitchen was buzzing with activity as teams of devotees prepared lunch for the massive crowds that will be in attendance for tomorrow's celebrations.
Amma walked slowly through the kitchen, speaking with the devotees doing seva there, asking them how the work was going. She walked past several pots that could have easily passed for small swimming pools. She checked all the storerooms. Then she went upstairs where a large group of devotees was chopping vegetables. Amma took a seat among them and began to chop some vegetables herself. First a cucumber, then a carrot, then some beans while everyone enthusiastically chanted the mantra Om amriteshwaryai namah.
One of the ladies, Sudharma from the local village, was in tears. "I was waiting for the moment for Amma to come," she said later. Every year Sudharma comes to the ashram on the eve of Amma's birthday to offer her service in the kitchen, all the time hoping that Amma will come. Like many people from the surrounding villages, Sudharma's family lost their house in the tsunami. She wanted to come and show her appreciation for everything Amma had done for her family. "It is only because of Amma that we are still here," she said. " Without her, there would only be water here—no land, no houses, only the sea."
Amma then sat to scrape a coconut and momentarily disappeared in a swarm of devotees who were overcome with devotion.
Eventually Amma made it back down to ground floor and paid a visit to the bakery. There, she took great delight in kneading and rolling the dough, taking time to make sure that all lumps and rough spots had been worked out.
And just before Amma went back to her room, she made one last stop, this time by the chapatti rollers. As they sang "Amma Amma Taye," Amma sat amongst them and rolled the dough flat.
By the time Amma returned to her room, the celebrations were well underway.
—Kannadi