Bharata Yatra 2004
3 March 2004 — Mumbai, Maharashtra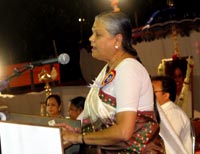 "I pray to Amma to bless the people of Mumbai," said Smt. Jayawantiben Mehta, the Honourable Minister of Power, to Amma and the some 30,000 people who had gathered in Prabhadevi Mumbai for Amma's darshan. "Everyone becomes a child in the presence of Amma. Just as we receive amrita [nectar] from the various forms of the Mother, we receive blessings from the Divine Mother. Amma blesses everyone. There is compassion in Her eyes. Amma's love is not confined to humanity alone, it encompasses plants and animals as well. …
Then Smt. Jayawantiben Mehta said how the program grounds were near the Siddhi Vinayak Temple and recalled a Puranic story wherein Lord Vinayak (Ganesh) won a race around the universe by simply circumambulating his mother, the Divine Mother, and thus received Her boon. Similarly, the Honourable Minister said, when we pray and pay our respects to Amma, we feel fulfilled.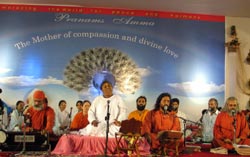 "Amma alone can bring peace to the world. There is no need to understand languages like Hindi and Malayalam," she continued. "You only need to read the language of Her eyes, Her love. Amma is the messenger of world peace. Just as the river flows, Amma's river of love just flows. We just have to follow it."
Other dignitaries on the dais included, Shri. Rajesh Tope, the Honourable Minister of State for Social Justice; Shri. Sanjay Deshmukh, Honourable Minister of State for Youth Welfare and Sports; Shri. Suresh Shetty, Honourable Minister of State for Education of Medicine; Shri. Rajindra Shingane, Honourable Minister of State for Education; Shri. Jaganmath Hegde, the Honourable Sheriff of Mumbai; Shri. Jackie Shroff, film actor; Shri. Sunil Dutt, film actor and M.P.; and Smt. Thackeray, renowned social activists. These were just a few of the many prominent industrialists, politicians, artists, cultural and social workers and educationalists who participated in Amma's satsang, bhajan and darshan.
The program began at 7:00 p.m. ended at 9:00 a.m. the next morning. Thirty thousand darshan tokens were distributed.
—Sakshi